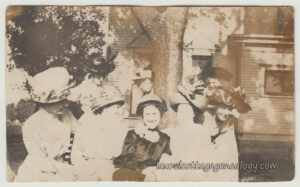 Old photo, circa 1900s – 1910s.
Price:  $5.00          Size:  4 x 2 and 3/8″
Just an old snapshot that has been around for over a hundred years – it had lived most of its life in one of those old photo albums with the black pages, before being picked up at a paper fair. No writing on the back at all, and it's blurry (but imagine you are bringing the scene into focus!) And what a great time these eight ladies are having….all in some of the most wonderful hats, no two are alike. And we get a sense that the woman in the dark satin blouse was the focal point of this photo – it was some type of special occasion for her.