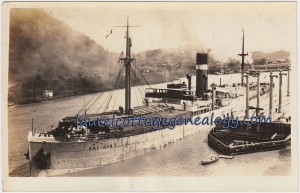 Old snapshot, sepia-toned, white border. Circa 1922.    Size:  5 and 1/2 x 3 and 1/2″
Condition:  Good though "wavy" overall (does not lay flat). This photo was taken from someone's photo album or scrapbook. Small crease in top left corner of white border. Click on image to enlarge for details.

Availability status:  SOLD
S.S. Cacique:  built in 1910 by the Short Brothers of Sunderland, England; 6,202 gross tonnage; owned by W.R. Grace & Co., purchased in 1914 from New York & Pacific Steamship Co. (Ltd.) a subsidiary of W.R. Grace & Co.; requisitioned by the United States Navy 1918-1919; returned to her owner after her navy service, scrapped in 1934 at Osaka, Japan.
This photo was an exciting and rare find at an antique and vintage paper fair in California. As of the date of this post, it appears to be only the second one in existence of Cacique, (the other is a US Navy photo) and if so, the only one with the view of her name on the hull! Update:  (See the comments on this page from Alan G. and Alan R. There are other photos still in existence.) The clarity and details are incredible. On the back is written, in pencil:  "US freighter, SS Cacique, Panama, c. 1922."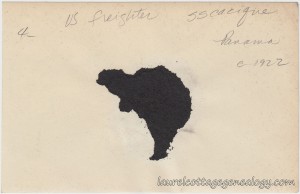 S.S. Cacique was owned by W.R. Grace & Co., a company founded in Peru by Irish brothers, William Russel Grace (1832-1904) and Michael Paul Grace (1842 – 1920). The brothers got their start in the mid-19th century using sailing ships to transport guano (among other items), after initially working as chandlers (dealers in ship supplies). While their Peruvian based ventures prospered Michael Grace stayed in Callao to look after the company's interests, and brother William went to New York, establishing W.R. Grace & Co. in 1865. William R. Grace became the first Catholic Irish-born mayor of New York City, elected in 1880, and was elected a second time in 1884. It was during his second term that the Statue of Liberty was received as a gift from France. A philanthropist and humanitarian, William R. Grace, with the help of his wife and brother, founded the Grace Institute in New York City in 1897, an educational and vocational school for immigrant women, whose legacy continues today. (As per usual, we see how one photo, postcard, trade card or whatever leads us down some totally unexpected paths!)
To follow the history of a shipping company can be understandably a bit of a complicated process; it's a topic not easily researched within a week or two, what with ship name changes, subsidiaries, chartered ships, etc. all interwoven and interdependent with trade and shipping law, and in general influenced by and influencing the political, economic and social scene of the day. For a fascinating and in-depth look at the earlier Grace years, see author Lawrence A. Clayton's Grace:  W.R. Grace & Co., the Formative Years, 1850 – 1930.  But just to clarify one point on Cacique's ownership:  According to a Who's Who In America entry, William R. Grace established the New York & Pacific Steamship Co. (Ltd.) in 1891. A separate source, a 1915 U.S. Congress publication regarding Foreign Vessels Admitted To American Registry, under the Act of August 18, 1914 shows  "Cacique:  Rig:  Steam Screw. Service:  Freight. Gross tons:  6206. Net tons:  4543. When built:  1910. Home port:  New York, NY. Present owner:  W.R. Grace & Co. Former owner:  New York & Pacific Steamship Co. (Ltd.) Former flag:  British."  So, while Cacique changed flags and the official ownership name in 1914, as evidenced by the ad and text below from the Frank Waterhouse & Co. publication, the vessel's parent company had not changed.
1917 advertisement and entry shown in Frank Waterhouse & Company's Pacific Ports. A Commercial Geography, Commercial Dictionary, Transportation Guide and Marine Manual of the Pacific Ocean, with Full Information for Importers and Exporters.
Note the subsidiary companies (specifically New York & Pacific S.S. Co.)
United States Navy photo of U.S.S. Cacique (ID 2213) during her WWI service. This photo may have been taken at the time of her inspection by the 12th Naval District on December 27, 1917. Cacique made two round-trip voyages between the United States and France during the remainder of World War I and the first months after the Armistice in November 1918.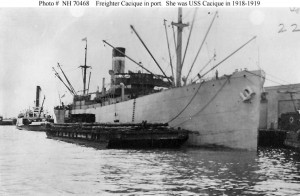 Regarding the smokestack colors:  The Grace line's steamship colors changed in 1913 from green with a black top to the smokestack that we see in the top photo which, if we could see it in color, would show what became known as Grace's signature stack colors (used from 1913-1969) of green with a white band and black top. The excellent The Ships List website contains detailed entries for the numerous vessels in the Grace Line. Cacique in these photos here is not to be confused with two other Grace ships under the same name. The first was a vessel built in 1893 that was lost to fire in 1908 off of the Ecuador coast; (owned by New York & Pacific Steamship Co., Ltd. and listed as chartered by W.R. Grace & Co. at the time of her unfortunate demise, which tragically included lives lost); the other Cacique being the ship Garfield, built in 1918, renamed Nosa Chief in 1929 and then Cacique in 1935, and scrapped in 1946. Also, not to be confused with another Cacique:  built by Swan, Hunter & Wigham Richardson, Ltd. in Newcastle, England 1908, sunk by a torpedo from a German submarine on February 20, 1917, (21 lives lost) and owned at the time of her loss by Cie. Générale Transatlantique. (Cie. is the french abbreviation for company.)

Sources:  USS Cacique (ID-2213). n.d. http://en.wikipedia.org/wiki/USS_Cacique_%28ID-2213%29. (accessed November 1, 2014).
"Grace Line (W. R. Grace & Co.), New York, 1882 – 1869."  The Ships List. Web accessed November 10, 2014. [http://www.theshipslist.com/ships/lines/grace.shtml]
William Russell Grace. n.d. http://en.wikipedia.org/wiki/William_Russell_Grace. (accessed November 2, 2014).
Michael P. Grace. n.d. http://en.wikipedia.org/wiki/Michael_P._Grace. (accessed November 2, 2014).
Clayton, Lawrence A. Grace:  W.R. Grace & Company. The Formative Years, 1850-1930. Ottawa, Illinois:  Jameson Books, 1985. Web accessed Nov. 1, 2014. (Google eBooks.)
United States. Cong. House of Representatives. Foreign Vessels Admitted To American Registry. 63rd Cong., 3rd sess. Washington:  GPO, 1915. Web accessed Nov. 2, 2014. (Google eBooks.)
Frank Waterhouse & Company's Pacific ports. ed. Welford Beaton. 3rd ed. Seattle:  Terminal Publishing Company, 1917. Web accessed Nov. 2, 2014. (Google eBooks.)
Baltimore. The Merchant's and Manufacturers Association of Baltimore. Vol. 15, No. 11 (September 1922):  p. 25. Web accessed November 10, 2014. (Google eBooks.)
Moody, John. Moody's Analyses of Investments, Part 2. Moody's Investors Service. (1917):  p. 2013. Web accessed November 10, 2014. (Google eBooks.)
Who's Who in America. A Biographical Dictionary of Notable Living Men and Women of the United States, 1901-1902. ed. John W. Leonard. Chicago:  A.N. Marquis & Company, 1901. Web accessed Nov. 2, 2014. (Google eBooks.)
The New York Lumber Trade Journal, Vol. 60. (March 1, 1916):  p. 33. Web accessed November 10, 2014. (Google eBooks.)
Naval History Heritage Command. Department of the Navy – Naval Historical Center. US Navy photo of USS Cacique. Web accessed November 10, 2014. [http://www.history.navy.mil/photos/sh-civil/civsh-c/cacique.htm]
"Cacique." Tyne Built Ships.  Web accessed November 23, 2014. [http://www.tynebuiltships.co.uk/C-Ships/cacique1908.html]