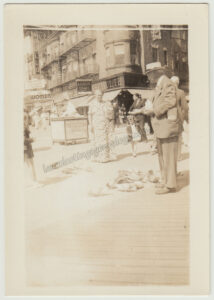 Old photo, white border. Atlantic City, New Jersey, 1939.
Price:  $10.00        Size:  2 and 1/2 x 3 and 1/2″
A busy street scene:  An older couple with the grandkids, feeding the pigeons. In the background, according to the source below, is the corner of S. New York Avenue and Boardwalk. This A. Schulte Cigars (one of numerous locations) address was 1645 Boardwalk and the Apollo Theater (most often spelled Theatre back in the day) was located at 180 S. New York Ave. The theater was a movie house and you can read the movie that was currently showing:  "The Women", starring Norma Shearer and Joan Crawford. The year for this photo turned out to be an easy one thanks both to the movie marquee, and the vendor in his small sidewalk booth (check out his shoes) selling tickets to the Miss America Pageant, September 5th – 11th. The movie came out in 1939 and the pageant in Atlantic City for those September dates took place the same year.
To our left, of Schulte's, we see a shop sign for what looks like, "Milano Linen." It's a little hard to make out. To our far right, next to Schulte's, was Riley's or maybe O'Riley's Liquor. Or possibly, it was so-and-so and Riley's – since the view is obscured we can't tell.
Source:  "Apollo Theater." (cinematreasures.org). Accessed March 6, 2023.