Postcard, undivided back. Postmarked from Goppingen, Germany, February 5, 1903. Printed in Germany.
Price:  $7.00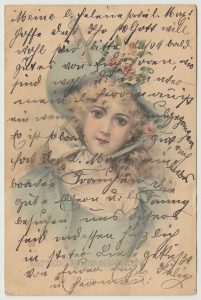 Another one in German. I can't decipher the handwriting for this one either (Jeesh!) But we do know that it was sent to:
"Mister Max Lützner. 334 Est. 41 Street. New York, Amerika"
Max Lutzner was found in the city directories at 334 E. 41st in 1899.
Source:  Trow's General Directory of the Boroughs of Manhattan and Bronx, City of New York. Vol. CXIL, for 1899. p. 806. Ancestry.com. U.S. City Directories, 1822-1995.