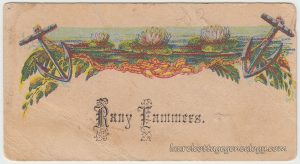 Calling card, circa late 1880s – early 1890s
Price:  $10.00            Size: about 3 and 7/16 x 1 and 7/8″

Here's an old nautical-themed calling card for Rany Lammers, which is probably from the late 1880s to the early 1890s. It's certainly not in the best of conditions, but could be the only card for this gentleman still in existence, and is a wonderful piece of family history.
Venus Loraine Lammers
A good number of records can be found for Rany, whose full name was Venus Loraine Lammers. (Middle name also spelled Lorraine, Lorain, Lowreen). Most records show him under Venus L., however, the 1880 Federal Census, when he was age eight, shows him as Rany. He was born in Cedar Grove, Wisconsin, May 3rd 1872 and died September 21st 1944 in Los Angeles County, California. He married Charlotte Swanman around 1884. The 1900 Federal Census shows Venus L. Lammers, salesman at a department store and wife Charlotte living in Luverne, Rock County, Minnesota. By 1912 the couple had made their way to California and were living in San Jose.
Lammers importance to Sheboygan County, Wisconsin
Rany's parents were Garret Lammers (1844 – 1917) and Anna Mary Zeeveld (1848 – 1874). (By the 1880 Federal Census Garret is remarried to Harmena "Mena" Claerbaut.) Garret Lammers twice visited his native Holland, both times bringing back with him a large number of Dutch emigrants.
Venus in the U. S.
The boy's given name, Venus, is not as unusual as one might assume:  For instance, federal census records in the U. S. for year 1900 show about 130 males under this name.
Sources:  Year: 1880; Census Place: Holland, Sheboygan, Wisconsin; Roll: 1447; Family History Film: 1255447; Page: 45D; Enumeration District: 203 (Ancestry.com).
Year: 1900; Census Place: Luverne, Rock, Minnesota; Roll: 787; Page: 17B; Enumeration District: 0256; FHL microfilm: 1240787 (Ancestry.com).

Minnesota Historical Society. Minnesota State Population Census Schedules, 1865-1905. St. Paul, MN, USA: Minnesota Historical Society, 1977. Microfilm. Reels 1-47 and 107-164. (Ancestry.com).
Zillier, Carl (ed.) History of Sheboygan County, Wisconsin, past and present, Vol. 2 (1912) pp. 567-569.
Venus Lowreen Lammers. Find A Grave Memorial# 85446771 (Findagrave.com).
Charlotte Swanman Lammers. Find A Grave Memorial# 85446768 (Findagrave.com).