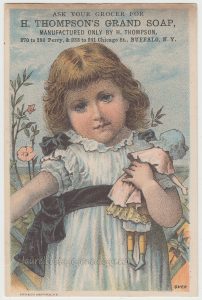 Trade Card for H. Thompson's Grand Soap, Buffalo, NY. Lithographer:  Gies & Co., Buffalo, NY. Circa 1874 – 1890s.

Price:  $15.00           Size:  3 and 1/16 x 4 and 11/16″
"Ask your grocer for H. Thompson's Grand Soap, Manufactured only by H. Thompson, 270 to 280 Perry, & 233 to 241 Chicago St., Buffalo, N.Y."
Here's a gorgeous card in peach and blue of a little girl holding her doll, and standing in front of a wooden trellis upon which a flowering vine is supported. Though the card says "over" at the bottom right, there is nothing on the reverse. This is another card by Gies & Co.
Hugh Thompson, soap and candle manufacturer

According to his obituary appearing in the Buffalo Commercial, "Mr. Thompson was born in Carhill, Ireland, February 29, 1824. He came to this country with his parents as a young boy. After spending about two years in parts of New York state and Ohio, the family settled in Buffalo in 1833."
Hugh Thompson manufactured soap and candles (and was a dealer in soap making supplies) at the corner of Perry and Chicago streets in Buffalo for around thirty-seven years. He and his wife, Rebecca (Bell) Thompson, also native of Ireland, had four children, Mary, William, Louisa and Clara, all born in New York. Hugh died April 1, 1905 at his home in Yellow Springs, Ohio.
Per the below 1881 Buffalo city directory ad, the business was established in 1853: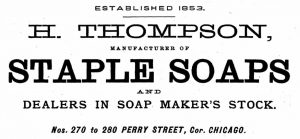 A kind-hearted man
Where was Carhill, Ireland? It's not found on a present-day map, but may have been the same "townsland" mentioned in The Guardian (London, England) news clipping from 1858, shown below:

Sources:   The Courier Co.'s Buffalo City Directory, 1881. pp. 173, 656. Ancestry.com. U.S. City Directories, 1822-1995. (Ancestry.com).
"Obituary. Hugh Thompson." The Buffalo Commercial, April 3, 1905. Monday, p. 5. (Newspapers.com).
Year: 1880; Census Place: Buffalo, Erie, New York; Roll: 828; Family History Film: 1254828; Page: 8C; Enumeration District: 119. (Ancestry.com).
Hugh Thompson. Memorial # 75112709. Findagrave.com.
"Counties Of Wexford And Carlow." The Guardian, (London, England) June 8, 1858. Tuesday, p. 1. (Newspapers.com).