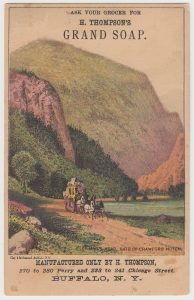 Trade Card for H. Thompson's Grand Soap, Buffalo, NY. Circa 1879 – 1886. Lithographer:  Clay & Richmond, Buffalo, NY.

Price:  $12.00           Size:  About 3 and 3/8 x 5 and 3/8″
Another H. Thompson's Grand Soap trade card, this one showing the rock formation, Elephant's Head, the gate of Crawford Notch, in the White Mountains, New Hampshire, and a stage coach continuing on its way, after coming through the pass. (We're using this card to segue from trade cards, in general, to a short upcoming Western theme.) But, anyway, she's a beauty, a little soiled, but there don't seem to be too many H. Thompson's out there currently. This one might have been one of a series of well-known locations as there's another card that can be found for the soap manufacturer (at Hagley Digital Archives) of Monument Rock, Echo Canyon. Curiously, "Grand" the brand name of soap, is not turning up in online searches, so exactly when Grand Soap was introduced and how long it was manufactured is unknown.
Clay & Richmond, lithographers, Buffalo.

As for the printer, they are Clay & Richmond. Per the 1879 Buffalo City Directory, the firm was Hugh M. Clay, W. E. Richmond and Henry A. Richmond. 1878 shows Clay and Co. (Hugh Clay and W. E. Richmond). Prior to 1878 Clay had been part of Clay, Cosack & Co. And we see Clay & Richmond listed in city directories as late as 1886 (Clay with H. A. Richmond). C & R's location was in the Coit block, W. Swan, corner of Pearl. To do the company justice more research would be needed so we'll just put up this quick offering for now. Our card is the second one we have, the first being Queen Anne Soap, Detroit Soap Co.
Sources:  Crawford Notch. n.d. https://en.wikipedia.org/wiki/Crawford_Notch (accessed November 10, 2017).
The Courier Co.'s Buffalo City Directories, 1877 – 1886. Ancestry.com. U.S. City Directories, 1822-1995.