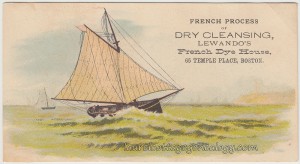 Trade card. Circa 1877 – 1881.    Size:  About 5 and 1/4 x 2 and 3/4″
Price:  $25.00
"French Process of Dry Cleaning, Lewando's French Dye House, 65 Temple Place, Boston."
Here's a beauty: a trade card showing a sailboat prominent in the foreground, with some others in the background, and a bare suggestion of a lighthouse atop some hills protecting the harbor. The light green color of the ocean is a little unusual, and I think, part of what makes this card so nice.
City directories were found from 1877 – 1880 for 65 Temple Place address. By at least 1882 Lewando's was at 17 Temple Place. Below is the 1877 ad showing they had been in business for the past 30 years, but a conflicting date shows up online at Historic New England for an undated trade card which shows  "Established 1829."  In any case, Lewando's was very successful and city directory ads show up into at least the 1960's, as well as a current location in Needham, MA under the name of Lewando's (not sure if the more recent ones were a continuation of the original business; they may or may not have been, but that would require more research which we won't get into here.)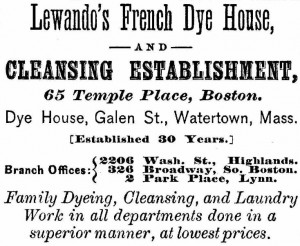 1877 ad showing the 65 Temple Place address.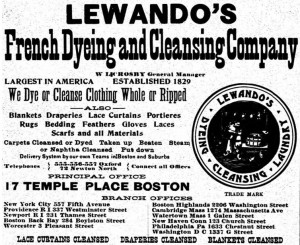 1906 ad showing the 17 Temple Place address as well as eleven other locations.
Well, we could veer off in many directions in researching this trade card. What was the "French dye process"? After searching online briefly, I still don't know but did find out that the word "denim" is of French origin….Did you know that ancient Romans used a dry cleaning method – of urine (for the ammonia), lye and fuller's clay? Here's a great article on the history of dry cleaning highlighting two men, Thomas Jennings, the first African American to receive a U.S. patent (1821 for his method of dry cleaning he called "dry scouring") and Frenchman Jean-Baptiste Jolly, sometimes called the father of modern dry cleaning. Check out green alternatives to modern dry-cleaning though, if you haven't done so already.
UPDATE:  Do also check out this link re Lewando's and playing cards from the comment below and the website, Amused by Jokers am I!
Sources:  Boston City directory, p. 1302.  The New-England Business Directory, 1877.  Ancestry.com. U.S. City Directories, 1821-1989
The Boston Directory, No. LXXVI. 1880. p.1254. Ancestry.com. U.S. City Directories, 1821-1989.
The Boston Directory, No. LXXVII. 1882. p.1471. Ancestry.com. U.S. City Directories, 1821-1989.
Sampson & Murdock Co. Boston Directory. 1906. p. 2816. Ancestry.com. U.S. City Directories, 1821-1989
Stone, Sarah, "How Dry Cleaning Works And Who Invented It."  Today I Found Out. Web accessed March 28, 2015. [http://www.todayifoundout.com/index.php/2014/09/history-dry-cleaning/]
Green "Dry" Cleaning. September/October 2007. Green America. Web accessed March 28, 2015. [http://www.greenamerica.org/livinggreen/drycleaning.cfm]