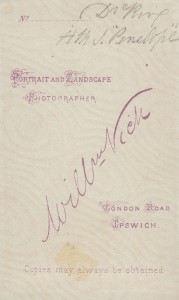 William Vick (1833 – 1911) was a photographer for thirty-plus years, primarily at London Road in Ipswich, Suffolk County, England, and later in Hornsey, Middlesex County. Baptized August 25, 1833 in the parish of King's Stanley, and born in Ebley, Gloucestershire, to Samuel and Mary Vick; his father's occupation was listed as Millwright at the time of William's second marriage. The above cropped scan shows the back of a Carte de Visite from probably around the mid to late 1870s to early 1880s. This was slightly darkened in Photoshop to bring out the detail a little better. You can see the lovely swirl pattern of the card backing. See the previous post "Dr. 'R' of H.M.S. Penelope"  for full Carte de Visite info.
William Vick was first married to Joyce (maiden name Webb per an Ancestry family tree) around 1858. They had three sons (per same Ancestry tree) Charles William, Henry John and James Walford Vick. The 1861 England census shows William Vick, occupation Schoolmaster, wife Joyce, and one-year old Charles, living in Cainscross, Gloucestershire.
William's second marriage was to Mary Ann Agar on August 26, 1865, at St. Marylebone church in Middlesex County. Their marriage record shows William as a widower, still working as a schoolmaster, and residing in Cainscross.The bride's father, Henry Agar, was a hotel keeper at this time. William and Mary Ann had three children, William Henry, Eleanor Mary and Annie M. Vick. William Vick changed careers to Photographer sometime after his second marriage and before the 1871 census was taken.
The 1871 shows William, Photographic Artist, about 38 years old; wife, Mary Ann, about 35, born in Mary le bone, Middlesex; and four-year old Henry William Vick, born in Cainscross, Gloucestershire; and nine-month old Eleanor Mary Vick, born in Ipswich, Suffolk; also with the family is Mary Ann Leyeant, servant, age 24. The address is London Road (corner house, no house number), Ipswich, St. Matthew's Parish.
An 1874 city directory shows William Vick, Photographer with address listed as Clarkson Street (just north of London Road) but all other various directories found after this (1875 – 1892) show London Road.
The 1881 census shows William, Photographic Artist, and family at the same London Road, corner house address with the additional family member by now, daughter Anne M. Vick, born Ipswich, about 1874. Also with them is household servant, Sarah Ristruck, age 24.
The 1891 lists William as Photographer, wife Mary Ann, and daughters Eleanor, now age 20, and Annie M., about 17 years old. Rather comically, Eleanor's occupation is listed as "Kinder Garten Student" (what was the name of that Adam Sandler movie? Billy Madison 🙂  ) But we'd assume the census taker meant either kindergarten teacher or a student studying to be a kindergarten teacher.
The 1901 census shows William, Photographer, wife Annie, son William H., age 34, occupation Architect and daughter Eleanor (no occupation given). The family is by now living in Hornsey, Middlesex County, and William Vick is working from home.
The 1911 census for Merton, Surrey County shows William, widower and Retired Photographer, at St. John's Lodge (Nursing Home.)
William Vick died at age 77, on April 15, 1911 at St. John's Lodge. It's always a little sad to come across the death information, after getting to know the person slightly through their records. But, we'll be on the lookout for more examples of William's work, at any upcoming (and the ever-so addictive) vintage paper fairs.
Update:  Click here for notes taken from The Ipswich Journal and more information about the photographer's work.
Sources:   Gloucestershire Archives; Gloucester, England; Reference Numbers: P190 IN 1/6. Ancestry.com. Gloucestershire, England, Baptisms, 1813-1913.
Census Returns of England and Wales, 1861. Kew, Surrey, England: The National Archives of the UK (TNA): Public Record Office (PRO), 1861. Class: RG 9; Piece: 1771; Folio: 47; Page: 16; GSU roll: 542865. (Ancestry.com)
Church of England Parish Registers, 1754-1921. London Metropolitan Archives, London. London Metropolitan Archives, Saint Marylebone, Register of marriages, P89/MRY1, Item 238. (Ancestry.com)
Census Returns of England and Wales, 1871. Kew, Surrey, England: The National Archives of the UK (TNA): Public Record Office (PRO), 1871. Class: RG10; Piece: 1750; Folio: 5; Page: 1; GSU roll: 830780. (Ancestry.com)
White's Professional and Commercial Advertising Directory, 1874. p. 135. (Ancestry.com. UK, City and County Directories, 1766-1946.)
The Post Office Directory of Suffolk, 1875. p. 854. (Ancestry.com. UK, City and County Directories, 1766-1946.)
Census Returns of England and Wales, 1881. Kew, Surrey, England: The National Archives of the UK (TNA): Public Record Office (PRO), 1881. Class: RG11; Piece: 1868; Folio: 77; Page: 1; GSU roll: 1341451. (Ancestry.com)
Census Returns of England and Wales, 1891. Kew, Surrey, England: The National Archives of the UK (TNA): Public Record Office (PRO), 1891. Class: RG12; Piece: 1466; Folio: 67; Page: 1; GSU roll: 6096576. (Ancestry.com)
White's Index of Places, 1892. p. 483. (Ancestry.com. UK, City and County Directories, 1766-1946.)
Census Returns of England and Wales, 1901. Kew, Surrey, England: The National Archives, 1901. Class: RG13; Piece: 1245; Folio: 24; Page: 40. (Ancestry.com)
Census Returns of England and Wales, 1911. Kew, Surrey, England: The National Archives of the UK (TNA), 1911. Class: RG14; Piece: 3453; Schedule Number: 54. (Ancestry.com)
England & Wales, National Probate Calendar (Index of Wills and Administrations), 1858-1966. (Ancestry.com)

William Vick (1833 – 1911). Early-Photographers. Web accessed April 5, 2015. [http://www.early-photographers.org.uk/Studio%20-%20Vick.html]