Old photo, circa 1920
Price:  $12.00           Size:  About 5 and 1/4 x 3 and 1/4″

This is the first of two related photos:  one regarding the S.S. Alameda and the other regarding the S.S. Tacoma. Both very likely came out of the same unknown family photo album. Too bad about the missing part of this photo on the back. I peeled off a little more of the black photo album paper to see if this might have been a Real Photo Postcard but there were no postcard markings underneath, so this (and likely the other) were not made into postcards. You can see some writing at the bottom here, of the type that is processed at the same time as the photo, so maybe this one was a photo that was offered to passengers. I'm not sure if the gentleman posing here next to lifeboat number 12 is the captain or a crew member. The insignia on the hat is hard to read. If anyone can lend clarification, please let me know.
The S.S. Alameda was a commercial steamship built in 1883 in Philadelphia by the William Cramp & Sons Shipbuilding Co. She weighed 5,000 tons, was 332 feet, 5 inches in length, held a crew of 52, and ran at a speed of 15 knots (wikipedia.) There are numerous photos online for her, the one below is from the Library of Congress, and shows her docked (assuming she is docked here in this photo) at Anchorage, Alaska. Just per some quick searches of other online sources, we find that her voyages included many along the Pacific Coast to Alaska, and that she also made trips to San Francisco from ports of Auckland, New Zealand, Sidney, Australia and Honolulu, (at that time Territory of) Hawaii. The third source listed below shows several transcriptions of ship passenger lists from these three embarkation points. (It's always fascinating to look at passenger lists, and this one from 1893 shows interesting occupations of the travelers such as Actor, Marble Maker and Gold Miner.)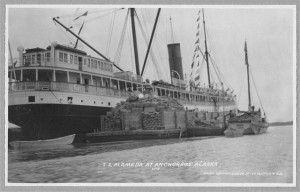 The S.S. Alameda operated up until November 28, 1931, when she unfortunately burned in a pier fire in Seattle, Washington. She was registered with the U.S. Navy during WWI but was never commissioned into navy service.
Sources:  http://en.wikipedia.org/wiki/USS_Alameda_%28ID-1432%29
http://www.loc.gov/pictures/item/99614671/
http://www.immigrantships.net/v2/1800v2/alameda18930831.html