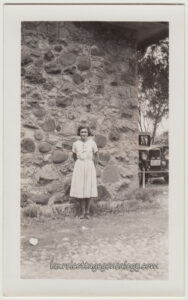 Old photo, white border. Circa 1930s – 1940s.
Price:  $3.00        Size:  About 2 and 3/4 x 4 and 1/2″
Another unknown person, no i.d. on the back. (Why do I keep buying them? I don't know. Just like them, I guess.)  But there's always something to learn from an old photo or postcard. And it was fun to try to discern the license plate info. If we could go back in time and "run the plate," since the numbers are so easily read 🙂 …..Anyway, at the bottom left, I think that reads 32, as in the year 1932. After that, geez, I'm lost. Every time I look at the enlargement I see something different (rather an interesting phenomena).  As for the make and year, the geniuses at the Forum page of the Antique Automobile Club of America have helped us out again. (I really can't say enough about these people.) So, the car is a 1928 Chevy; that's possibly a "pancake" horn to the right of the plate; and the two identical objects above the plate are – you might have guessed by that sense of "in flight" and feathers look – a pair of Mobile Oil Pegasuses (for decoration).
As for the young lady who posed so charmingly for this snapshot – as stated, no name, but she's standing, hands behind back, smiling, hair side-parted and bobbed, wearing a pale-striped dress, belted at the waist and flat shoes with bobby socks. Her "backdrop" is a massive stone wall, part of some type of structure, maybe even a covered bridge; we can see part of a roof or awning. And there's our Chevy, peering out from the side of the building. 😉
Sources:  Google search "1928 chevrolet car images front end." Accessed March 12, 2023.
Google search "mobile oil pegasus." Accessed March 12, 2023.