Héliogravure or Photogravure. Postmarked July 23, 1914, Patchogue, New York. Publisher:  H. O. Korten. Panel Card No. 174. Printed in Germany.
Price:  $8.00            Size:  About 6 and 1/8 x 2 and 1/2″

An interesting image, though a big chunk of the right-hand upper corner is missing. It might be relevant for anyone interested in the history of Patchogue, and definitely so if their ancestor owned a sailboat christened Nancy Hanks.

Originally I listed this one as a Real Photo Postcard, but many thanks to Jim, who commented, for the correction. It's a héliogravure or photogravure.
What degree of separation….mother, horse, sailboat…?
One naturally assumes the boat may have been named after a then present-day (1914) person, maybe a relative of someone who lived in Patchogue. So, we went to census records for Nancy Hanks, but found nothing; then went to historical newspapers and found a reference to someone running off at "a Nancy Hanks trot."  Intriguing…..Ahhhh, a little further searching revealed that Nancy Hanks (named after Abe Lincoln's mother) was a Standardbred trotting mare, a record-breaker that was later inducted into the Harness Racing Museum & Hall of Fame.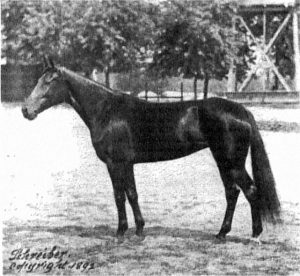 The trotter Nancy Hanks circa 1892, photo by Schreiber.
As for the card's sender and recipient…..
Addressed to:   "Miss Elsie Blum, 481 E – 11th st., Brooklyn, N.Y."
The sender wrote:   "Dear Ones, just got mother's letter & will write soon. Wieder[?] is very very happy with you. Love & a big kiss. Tanta Lahy."
The Blum family were of German origin, and maybe "Tanta" is a nickname for tante (aunt). It sounds like the sender's son received a gift from Elsie and was thrilled with whatever it was. As for the addressee, there's an Elsie Blum on the 1910 Federal Census that might fit for the addressee of this card. Born in Ohio about 1890, parents Adam and Elsie, address 812 Cortelyou Road in Brooklyn, with a near cross street being E. 7th. Nothing coming up for the address on the postcard in city directories at either 481 11th (apt. E) or 481 E. 11th, which is surprising. But it is an address today, if the numbering is the still the same, 481 11th St., a condo, and so beautiful on the inside! ( If Elsie could see it now!)
Sources:  Photogravure. n.d. https://en.wikipedia.org/wiki/Photogravure (accessed February 7, 2021).
Year: 1910; Census Place: Brooklyn Ward 29, Kings, New York; Roll: T624_983; Page: 10A; Enumeration District: 1023; FHL microfilm: 1374996. (Ancestry.com).
Nancy Hanks (horse). n.d. https://en.wikipedia.org/wiki/Nancy_Hanks_(horse). Accessed September 15, 2019.