Divided back, unused postcard. Manufactured by Wayne Paper Box & Printing Corp., Fort Wayne, Indiana. Series H-916. Circa 1940-1946.
Price:  $12.00
This mission, founded in 1772 by Father Junipero Serra, was named after Saint Louis, Bishop of Toulouse, France, and is located in downtown San Luis Obispo, California. The postcard has a gray border,  glossy finish, double-lined header (on the back) and is estimated to be from about 1940-1946 (from the online source listed below.) The card's publisher started operations in 1898 per their ad below, that appeared in Fort Wayne, Indiana's North Side High School's 1936 yearbook edition, The Legend.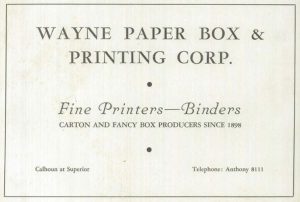 A promise kept
Andrew G. Burry, founder of Wayne Paper Box & Printing Corp, buys lunch for his fellow Rotarians: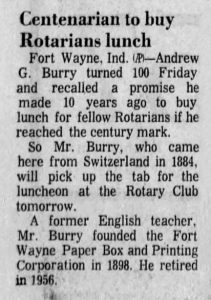 Sources: Mission San Luis Obispo de Tolosa, history. http://missionsanluisobispo.org/visit/#history. (Accessed March 3, 2018).
Becker, John R. "Wayne Paper Box Co. Cards." http://www.dejean.com/salem/1930s/wayneboxcards_becker.html (Accessed March 3, 2018).
North Side High School, The Legend (n.p. 1936), Ancestry.com. U.S., School Yearbooks, 1900-1990.
"Centenarian to buy Rotarians lunch." The Baltimore Sun, February 4, 1973. Sunday, p. 12. (Newspapers.com)