Divided back, used postcard. Postmarked June 2, 1908, Idaho (city unknown.) Publisher unknown.
Price:  $20.00 or best offer
A wonderfully unusual postcard showing a drawing of a man in an old-fashioned bathing suit (the card is postmarked 1908) who is bald on top with a fringe of hair around the side. He has a large belly, has his dog with him, and they are standing at the seashore, crying. The waves are sad and are crying and the clouds are also crying. A sailboat appears off in the distance. Much of the drawing is in blue, like a pen and ink type drawing, but it has a beautiful bright yellow color for most of the sand and waves. (The poor dog looks so sad.)
The surprising thing (for most of us) is that the caption for this one has been around a while. And it is just so fascinating to make these types of discoveries; looking back over a week's worth of research, and getting that sense of the postcard turning into kind of an invisible, then visible doorway. The doorway materializes (a shimmery effect I'd say) at the point of realization that there's so much more to this one than meets the eye. The phrase in the spotlight for this post had lasted for at least 77 years. Who knows for sure who coined the original?  By The Sad Sea Waves also came up referenced on a great website for slang of the Old West, which got me imagining the reverse of us looking back:  those in the past looking forward at us (why not? It's a physics thing) and finding our sayings today just as perplexing, interesting and delightful as we find theirs. This postcard takes us back through the years and touches different media, from film in 1917, which was going forward from the postcard date – back to a newspaper cartoon in 1905, back to a music hall song in 1895, back to several paintings, one of which is circa 1878, and prior to that a ballad in an opera written in about 1844. Starting with the most recent and traveling backward we have:
Comedian Harold Lloyd in one of the scenes from the silent movie By The Sad Sea Waves, which debuted in 1917. (By permission from Harold Lloyd Entertainment.)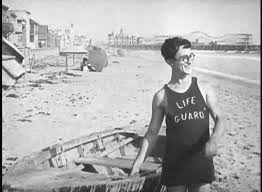 Political cartoonist Clifford K. Berryman's By the Sad Sea Waves, which appeared in the Washington Post, August 31, 1905. The gentleman in the postcard has similar characteristics to one of the characters below. (And the captions are a scream.)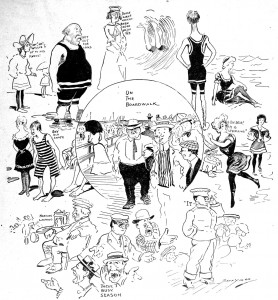 Music hall song lyrics for By The Sad Sea Waves written in 1895 by Lester Barret and Lester Thomas:
"In the glorious summer season, everybody takes a trip,

To the seaside; for enjoyment, on the sands they gaily skip;

Married men with wives and children, single Johnnies, on the mash;

Pretty girls who seek for husbands, who have pockets full of cash.

By the sad sea waves, where the ladies are so charming;

By the sad sea waves, in the glorious summer time,

With their fetching smiles and dresses, rosy lips and golden tresses,

Shady nooks and sly caresses, by the sad sea waves.

At the boarding house in Newport, Percy Vere met Gladys Gray;

Soon he showed his fond affection, took her driving every day.

By his tone he seemed  a marquis, she had jewels in galore;

So they formed a love engaqement, as they strolled along the shore.

By the sad sea waves, every night he took her strolling;

By the sad sea waves he would swear his heart was gone!

She's the only girl he sings to, she's the girl he says nice things to,

Promised lovely diamond rings to, by the sad sea waves!

When their holidays were over and they had to say adieu;

He, to join his yacht at Brighton, she to join her papa too;

They agreed to write each other Billet Doudlets every day,

And when he'd his mansion ready, they'd be married right away.

From the sad sea waves back to business, in the morning'

From the sad sea waves, to his humble 'five a week!'

In a cafe he goes dashing, who should bring his plate of hash in,

But the girl he had been mashing by the sad sea waves!
British artist Frederick William Hayes' (1848-1918) oil painting By The Sad Sea Waves. (Photo credit to Tullie House Museum and Art Gallery Trust. Used by permission from the BBC website Your Paintings.)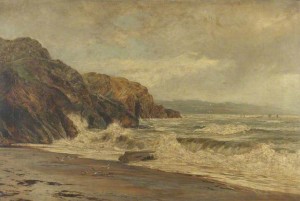 An engraving appearing in The Art Journal of the painting By The Sad Sea Waves by British-born American artist John George Brown (1831-1913.) The original painting was displayed in an exhibit in 1878 at the National Academy in New York.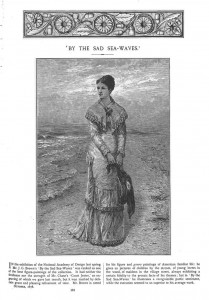 Sheet music with cover showing announcement for England-born opera singer Sara Elizabeth Flower's (1823-1865) performance in 1850 of the ballad By The Sad Sea Waves from the opera The Brides Of Venice. (1844) Music by Sir Julius Benedict, lyrics by J. L. Lambert. The performance took place May 3, 1850 at the Royal Victoria Theatre in Sydney, Australia. (Obtained online from National Library of Australia.)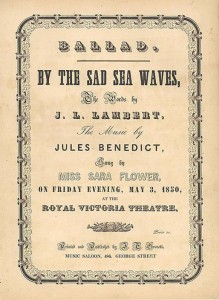 There is also a poem attributed to I. L. Cosham under the title By The Sad Sea Waves which appears in an 1895 publication of The Fisherman, a monthly publication for The Gloucester Fisherman's Institute. Not much was found for Cosham other than a reference to "Celtic Poets." A watercolor painted in 1853 titled By The Sad Sea Waves was found for England-born Australian artist Charles Norton (1826-1872) and as you can guess, a number of other references to or works of art under the same title, show up online (which we won't get to here, being anxious to move on to the next subject.) But we're left with that delightful feeling of having explored some hitherto unknown roads.
Almost last but not least, this one is part of the Alice Ellison Collection. The sender writes:
"Hello Cousin, Hope you are well now. Be good and come to see me. Also send me a postal if you please. Lentie."  The card is addressed to:  "Miss Bessie Ellison, 26th & Cheyenne Ave., Pueblo, Colo."
Lastly, the same postcard is showing up for sale online, in a couple of places at the time of this post, for between about one dollar and several dollars. Were this card in very good condition, I would be want to place the value at about $20.00 because of the history attached to it, but it's certainly not in good shape, what with the missing left corner. If interested in purchasing, just make an offer.
Sources:  Scheer, Ron. "Glossary of frontier fiction: B (buck ague – 'By the Sad Sea Waves')."  Buddies in the saddle, September 28, 2013. Web accessed 27 Jul 2014.
U.S. Senate, Office of Senate Curator, Berryman Political Cartoon Collection. (compiled 1896-1949) National Archives identifier 6010614. Web accessed 27 Jul 2014.
Barret, Lester and Thomas, Lester, song By the Sad Sea Waves (1895). From monologues.co.uk Music Hall Lyrics Collection. Accessed 22 Jul 2014
Tullie House Museum and Art Gallery Trust. Your Paintings.
Copyright British Broadcasting Company. n.d. Web accessed 27 Jul 2014.
Brown, John G., painting By The Sad Sea Waves.
The Art Journal for 1878, Vol. 4. D. Appleton & Co., New York. p. 289. Web accessed 26 Jul 2014. (Google eBooks)
John George Brown. n.d. In Wikipedia. Accessed 25 Jul 2014.
Gyger, Alison. "Flower, Sara Elizabeth (1823-1865)."  Australian Dictionary of Biography. 2005. Web accessed 24 Jul 2014.
Benedict, Julius and Lambert, J.L., Ballad By the Sad Sea Waves, National Library of Australia, Digital Music Collections, an14181939. Web. Accessed 30 Jul 2014.
Julius Benedict. n.d. In Wikipedia. Accessed 27 Jul 2014.
Cosham, I. L. poem By The Sad Sea Waves. The Fisherman. Vol. 1, No. 6, June 1895. The Gloucester Fisherman's Institute. p. 96. Web. Accessed 27 Jul 2014. (Google eBooks)
Norton, Charles. Watercolor painting By the Sad Sea Waves. State Library of Victoria. Web.Accessed July 27, 2014.