Cropped, Divided Back, unused postcard. AZO stamp box. Circa 1907 – 1918.
Price:  $12.00           Size:  About 5 and 3/8 x 3″
Wow, this is the first old lumberyard photo I've seen. Googling similar images brings up the compilation below, but the stacks in our image apparently have the most interesting angles (!) (Could it be partially due to the camera's aspect?) And we're seeing four boys and three men in this postcard, one of the men is identified as "Chas" (Charles).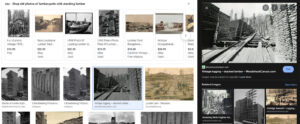 Source:  "Old photos of lumberyards with stacking lumber." Google.com search. (Accessed September 18, 2022.)