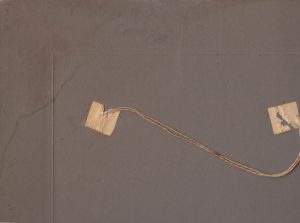 Old photo, January 10, 1912. Covina, California. Photographer unknown.
Price:  $20.00        Size including matting:  About 12 x 10″
In honor of American workers, for Labor Day….
Well, there's actually no guarantee for this being a company photo, but it's maybe a good guess. We definitely have a date and place from the writing on the back:  February 10, 1912, Covina, California. Of course, that's neither here, nor there, in the question. But what might make one think this is a group of employees, with maybe a boss or two in there, are the aprons some of the girls and guys are wearing, and the hand punch on a string, around the neck of the young man, third from left, front row. Could this be a photo from The Stronghold, a denim company out of Los Angeles, established 1895? That's probably stretching it, but it is interesting to see The Stronghold label on the guy's overalls, far left. But what is he holding up in his left hand?