Old photo, white border. Velox print. Fritz Studio, Havre, Montana. June 9, 1927.
Price:  $6.00
"Lewis & Boyd & the Ford Coupe he had two yrs. ago."
No luck in determining Boyd's surname and too many possibilities for Lewis. Still, a cool picture. And we're presuming that is Boyd on our left (arm on window, foot on running board – that's an ownership pose if ever we saw one, and is that a camera in his left hand?). Love Lewis' position at this moment in time, too – the wide stance, hands in overalls, hat pushed back. All in all, a nice 1920's-era shot of two guys and a car.
The Fritz Studio:  This was Frank Fritz (haha, no not Frankie from t.v.) and his studio in Havre was located at 217 3rd Avenue.
Frank was born in June 11, 1878 in St. Cloud, Minnesota, son of Andrew Fritz and Mary (Braun) Fritz. Though on his WWI Draft Registration Card he stated 1880 for year of birth, the 1880 Federal Census shows he was already two years old at that time and a short bio (to that point) for him appears in the History of Stearns County, Minnesota (1915) that also indicates 1878:
"Frank Fritz, St. Cloud photographer, was born in the city where he still resides, June 11, 1878, son of Andrew and Mary (Braun) Fritz. He attended school in St. Cloud, and afterward taught for awhile. For a time he was in partnership with his brother, John J., in the photograph business. For some years he has conducted a studio of his own and does some excellent work. He is a member of the Elks, the Knights of Columbus, and the Eagles."
For more on the Fritz Family see the link above.
Later in 1915, Frank sold his studio in St. Cloud to Louis W. Olsen.
We couldn't find city directories online to narrow down a date, but Fritz must have relocated to Havre in the latter part of 1915 or early 1916. The article below from The Havre Daily News in 1926, indicates he'd been in a particular location in that city since 1918: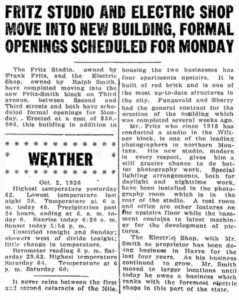 On September 28, 1923, Frank married Maude H. Phifer, in Billings, Montana. He passed away in 1932.
Sources:  R. L. Polk & Co.'s Havre City Directory, 1929-'30. p. 55. Ancestry.com. U.S., City Directories, 1822-1995.
Year: 1880; Census Place: Saint Cloud, Stearns, Minnesota; Roll: 634; Page: 441D; Enumeration District: 113 (Ancestry.com).
Mitchell, William Bell. History of Stearns County, Minnesota, 1915. Volume 1, pp. 697 – 698. (books.google.com).
Bulletin of Photography. P. 154. Publisher Frank V. Chambers, Philadelphia PA. Vol. 17. July 7 – December 29, 1915. (books.google.com).
Montana State Historical Society; Helena, Montana; Montana, County Marriages, 1865-1950. (Ancestry.com).
"Fritz Studio And Electric Shop Move Into New Building, Formal Openings Scheduled For Monday."  The Havre Daily News, October 3, 1926. Sunday, p. 1. (Newspapers.com).
Find a Grave. Find a Grave. http://www.findagrave.com/cgi-bin/fg.cgi.