Trade Card, Philadelphia, Pennsylvania for Wanamaker & Brown. Circa
Price:  $10.00            Size:  3 and 1/4 x 1 and 1/2″
Taking a very short respite from all the black and white photos and cards, here's a bit of color, nicely appropriate for autumn. The front shows some turning leaves with the following printed message:
"Buy your Winter Overcoat and Suit at Oak Hall. We sell the best goods for the least money, and refund the cash if you are displeased with your purchase. Wanamaker & Brown. S. E. cor. Sixth & Market Sts." 
Founded in 1861, the Wanamaker & Brown clothing company became an institution in Philadelphia, lasting for over a century. Much has been written about them, and plenty of online photos and other trade cards can be found. See Wikipedia's post, "Wanamaker's" for more information. Below, an early ad from The Philadelphia Enquirer, dated January 25, 1862: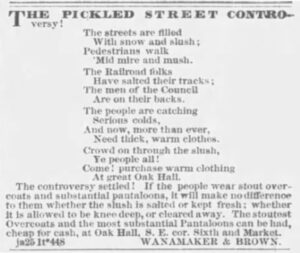 The title in the ad above is interesting, referring to pickling something in salt water, though in this case the salt would be used to melt snow and ice on the streets.
On the back of our trade card, the holder (for a time) of this card, has written her name:  Hattie B. Francis (or Hattie A. Frances).
Sources:  The Philadelphia Enquirer, January 25, 1862. Saturday, p. 5. (Newspapers.com).
Wanamaker's. n.d. https://en.wikipedia.org/wiki/Wanamaker%27s (accessed September 30, 2022).