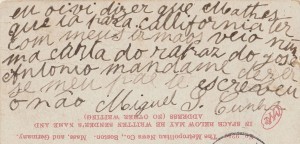 Stone Bridge Cottage was a popular hotel and restaurant which later became known as Stone Bridge Inn. The Inn appears to have survived as an establishment at least until August or September of 1976, according to a newspaper ad for the Inn as a musical venue to include buffet lunch and champagne. The open, roofed porch that encircled the building would later have been enclosed. According to authors Nancy Jensen Devin and Richard V. Simpson, the building shown here in this 1909 postcard would have been the third structure, described as,  "…a large, wood-shingled, two-and-a-half story hotel occupying a corner lot at the east end of what was once the Stone Bridge….The once-fashionable resort catered to vacationers and travelers for almost two centuries." 
The first in The Cunha Family Collection:  This card was sent by Miguel S. Cunha, presumably a relative of the addressee. Two of the three are written in Portugese (and if anyone can translate them we'd surely appreciate it.) The translation is difficult due to the sender's handwriting, and the possibility of misspelled words or even a change in spelling over the years. This one appears to be about someone named Mathes going (or who was going) to California with (or to see?) Miguel's brothers, and something regarding a letter being sent to Miguel's father? Also, someone named Jose Antonio is mentioned.
The card is addressed to:   "Jose Silveira da Cunha, 115 Sumner St, Taunton, Mass."
The likely fit for the addressee shows in Massachusetts Marriage Records, for Jose Silveira Da Cunha, born about 1878 in the Western Islands (of the Azores). Married on November 10, 1906 in Taunton to Maria S. Azevedo, born about 1880 in the Western Islands (of the Azores). The groom's parents are Joao Silveira Bettencurte Cunha and Rosa Margarida Da Silveira, and the bride's parents are Manuel Vieira Siceira and Mariana Azevedo. The next two postcards in this small family group are addressed to Mary Cunha and Mrs. J. Cunha at the same Sumner Street address.
Divided back, used postcard. Postmarked October 6, 1909 from Newport, Rhode Island. Publisher:  The Metropolitan News Co., Boston, Mass. and Germany. No. 9259 (44078).

Price:  $5.00
Sources:  "The Stone Bridge Music Festival."  The Berkshire Eagle, 27 Aug 1977, p. 64. (Newspapers.com)

Jensen, Nancy and Richard V. Simpson. Images of America:  Tiverton and Little Compton. Charleston:  Arcardia Publishing, 1977. (Google eBook.)
Massachusetts Vital Records, 1840–1911. New England Historic Genealogical Society, Boston, Massachusetts. (Ancestry.com. Massachusetts, Marriage Records, 1840-1915.)