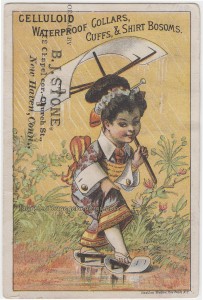 Trade card, circa 1882 – 1883.  Printed by Donaldson Bros., Five Points, New York.

Price:  $10.00       Size:  About 4 and 1/2 x 3″

"Celluloid Waterproof Collars, Cuffs and Shirt Bosoms for sale by B. J. Stone, 352 Chapel cor. of Church St., New Haven, Conn." B. J. Stone appears in New Haven city directories, under the heading of "Gents' Furnishings Goods" and "Shirt Manufacturers." The 1882 city directory, in particular, has an ad showing "B. J. Stone (successor to Smith & Stone) Men's Fine Furnishings, 352 Chapel St., cor. Church, New Haven, Ct., Shirts made to Order a Specialty"  This card is probably from around 1882 or '83 as some of the other city directories (1884 – '86) show 870 Chapel as the address. Notice how the canopy of the umbrella and soles of the girl's shoes are a shirt collar and cuffs – waterproof!
The 1880 U.S. Federal Census for New Haven shows that B. J. is Benjamin J. Stone, born about 1839 in Connecticut, and shows him on this census living with his parents, Benjamin W. Stone, and Elizabeth J. Also in the household is brother George, his wife Mary, and their son George.
Sources:  New Haven, Connecticut city directories, for years 1882 – 1886 (1821 – 1989 U.S. City Directories, Ancestry.com)
1880 United States Federal Census for New Haven, Connecticut (Ancestry.com)