Divided back, used postcard. Postmarked July 21, 1908, Des Moines, Iowa. "Series 100, Linen Comics. 50 Subjects." Publisher:  possibly R. L. Wells.
Price:  $7.00
Here's the second postcard we have for the likely publisher of R. L. Wells. (See prior post.) This one shows one kitty, who wears a red bow, inviting another kitty to sit down in a rocking chair. The caption is  "Just a Little Rocking Chair and You"  with a treble clef staff underneath. This postcard caption is the title of a song: music by Theodore Morse, lyrics by Jack Drislane and Bert Fitzgibbon, released in 1906. The sheet music cover below shows singer Ada Jones.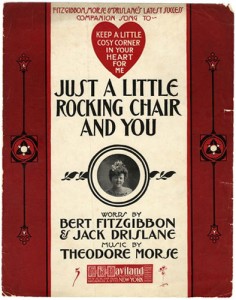 Card addressed to:  "Mr. Harry Smithe, Seward Democrat, Seward, Neb."  To the left of the address was written  "This was meant for [?] but it strayed into your hands instead. Yes? No? Go ask papa.  [?]"  
The front of the card may or may not have been written by the same person as the above message and says,  "Did you get your comb Della? I got me a white [?] sailor suit yesterday. Have the boys from Oklahoma arrived yet. Yes? No? Is the noise as great as it was when I was there go ask papa. I hear from D. (?) about every day. Mabelle writes[?] also. Did you get my music[?] from her? I haven't got it yet. Tell Clide I was afraid to send him one like this ??? I heard from Clide Moore today. Give my mother-in-law my love. Also my [?]  Mr. Moore"
Editor and publisher William H. Smith
Thanks to the corrections (see comment below) from Leo, we found that Harry or Harvey, was William H. Smith, born in 1873 in Henry County, Illinois, son of William L. Smith and Maria (Edwards) Smith. William H. Smith came to Seward about March 1897 and bought the Seward County Democrat and then the Independent, consolidating them into the Seward Independent Democrat. Della (Fletcher) was his wife. They were married June 12, 1901 in Seward.
This card is rather fascinating for the message content and writer's or writers' style:  Why was the sender afraid to send a postcard like this to Clide? Funny – the whole "Yes? No?" thing, and how did the postcard stray into someone else's hands? And the "Go ask Papa" refrain would make a good song title. Speaking of which, the short research into old song titles leaves me wondering (as per usual) what we're currently missing. Just the titles alone are worth looking at, and what about all of the music – the catchy tunes, the charming and often comic lyrics, the insight into a prior century, etc.
Sources:  "Just a Little Rocking Chair and You."  ASU Libraries. Arizona State University sheet music collection. Web accessed 14 Aug 2014.
"Memorial and Biographical Record and Illustrated Compendium of Biography." (1899). Chicago:  George A. Ogle & Co. (Google Books).
Year: 1910; Census Place: Seward Ward 2, Seward, Nebraska; Roll: T624_855; Page: 22A; Enumeration District: 0176; FHL microfilm: 1374868. (Ancestry.com).
Marriage record for William H. Smith and Della Fletcher. Library and Archives of the Nebraska State Historical Society; Lincoln, Nebraska. (Ancestry.com).