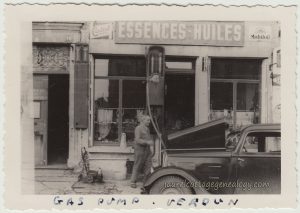 Photo, white border, deckled edge. Circa mid-1930s, France.
Price:  $10.00
Verdun, France, a man refuels his vehicle, a 1934 or 1935 Peugeot 401.
Two members of the Antique Automobile Club of America came to the rescue (lightning quick responses, as usual) to identify the make, model and year of the car in the photo, and for clarification on the Castrol sign appearing to the left of the large Essences – Huiles.
Of course, it's one of the first things to do (and so fun) when enlarging old photos – try to decipher any blurry or murky-looking wording, and that word under Castrol had me stumped (was guessing Brewster, haha) but it turned out to be something simple, in french, brevetée, patented. (See link in Sources.) And that's a Gargoyle Mobiloil sign, to the right of Essences – Huiles. Gargoyle was a brand name under the Vacuum Oil Company. Also, noteworthy in the photo, is the small piece of machinery on the concrete, to the left of the man. Per my mechanic hubby, this is maybe an air compressor or pressure washer. Last but not least, we love the intricate wrought ironwork over the doorway of the Bureau de something, not quite readable – another of those, if you already knew what it said, it would be perfectly clear. 😉
Sources: Photo and video forums. What is it? Antique Automobile Club of America. Response to query of February 7, 2020. https://forums.aaca.org/forum/66-what-is-it/.
Vacuum Oil Company. n.d. https://en.wikipedia.org/wiki/Vacuum_Oil_Company (accessed February 7, 2021).
"French Castrol Oil Double-Sided Porcelain Flange". Mecum Auctions Road Art. mecum.com. (accessed February 13, 2021).