Divided back, unused, Real Photo Postcard. Circa 1915. AZO stamp box.
Price:  $10.00
Two gorgeous girls:  friends (or perhaps cousins) Agnes Gartin and Lydia Frazee, which is which we can't say for sure. Per the writing on the back the photo was taken Sunday, October 5th at 4 p.m., year not given. From census records Agnes was born in Oklahoma about 1900, daughter of Mitch C. and Rosa D. Gartin. (Rosa's maiden name is McMillan per Ancestry trees.) And Lydia "Lydee" was born in Kansas about 1901, daughter of Bert L. and Lena Frazee (Lena's maiden name is Carter per Ancestry trees.) Most likely, the photo for this RPPC was taken in Morton, Sedgewick County, Kansas, around 1915 or so.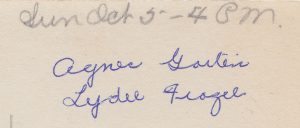 Sources:  Year: 1900; Census Place: Patterson, Garfield, Oklahoma; Page: 5; Enumeration District: 0061. (Ancestry.com).
Kansas State Historical Society; Topeka, Kansas; 1905 Kansas Territory Census; Roll: ks1905_147; Line: 28. (Ancestry.com).
Year: 1910; Census Place: Morton, Sedgwick, Kansas; Roll: T624_455; Page: 10B; Enumeration District: 0090; FHL microfilm: 1374468. (Ancestry.com).