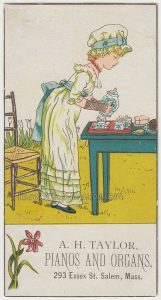 Trade Card. Salem, Massachusetts. 1880 – 1881.
Price:  $12.00         Size:  2 and 1/2 x 4 and 1/2″
"A. H. Taylor, Pianos And Organs, 293 Essex St., Salem, Mass."
This could be the only surviving trade card for this company in existence, though that might be "doing it too brown" as they say in Regency terms. (I wonder if Georgette Heyer interspersed that era's vocabulary into her own present-day conversation, and if so, what the response was, blank looks?) In any case, this is a charming card showing a young maid setting up for a small outdoor tea party.
A. H. Taylor was Albert H. Taylor, born about 1857 in Manchester, Massachusetts, son of John M. Taylor and Ann H. Lee. He married Cora B. Kenney June 11, 1879. The 1880 Federal Census for Salem, shows Albert's occupation as piano tuner, and the household at that time was Albert, Cora and their one month old son, Albert H., living at 88 Federal St.
By 1900 they have another family member, Louis C, and the family is now in Bridgeport, Connecticut, at 111 Hicks St. Albert, Sr.'s occupation is listed as music dealer.
And by 1910, Albert and Cora have relocated to Springfield, Mass. Albert's occupation appears to read as "com. traveler, pianos,"  so, commercial traveler or traveling salesman in the piano industry.
As for city directories, the 1881 for Salem lists A. H. Taylor at the 293 Essex St. address, under headings of Music Stores, Piano Dealers and Piano Tuners. Evidently, he ran an ad on the front cover of that directory, but the cover is missing. The 1879 directory shows a music store belonging to H. R. Perkins & Co., the 1880 directory wasn't found and nothing shows for the 293 address after 1881 until 1888 (a house furnishing store). So, this trade card can pretty accurately be said to be from 1880 or 1881.
Sources:  Sampson, Davenport & Co.'s The Salem Directory for 1879, No. XVIII. p. 279. Ancestry.com. U.S. City Directories, 1822-1995.
Sampson, Davenport & Co.'s The New England Business Directory for 1881. pp. 284, 285 and 278. Ancestry.com. U.S. City Directories, 1822-1995.
Year: 1880; Census Place: Salem, Essex, Massachusetts; Roll: 532; Page: 686A; Enumeration District: 235. (Ancestry.com).
New England Historic Genealogical Society; Boston, Massachusetts. Ancestry.com. Massachusetts, Marriage Records, 1840-1915.
Year: 1900; Census Place: Bridgeport, Fairfield, Connecticut; Page: 11; Enumeration District: 0036. (Ancestry.com).
Year: 1910; Census Place: Springfield Ward 7, Hampden, Massachusetts; Roll: T624_593; Page: 19A; Enumeration District: 0649; FHL microfilm: 1374606.(Ancestry.com).