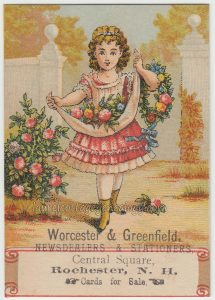 Trade card, circa 1881 – 1899.
Price:  $15.00        Size:  About 2 and 1/8 x 3 and 1/8″

A beautifully stylish little girl, with a wreath of flowers on one arm and just picked roses overflowing from her makeshift cloth "basket," advertises:
"Worcester & Greenfield. Newsdealers & Stationers, Central Square, Rochester, N. H. Cards for Sale."
We're finding no other trade cards for this company online, at the time of this post.
Worcester & Greenfield were Horace L. Worcester and his partner and brother-in-law Frank Greenfield. The firm started in 1881 and in 1899 Hiram, having earlier bought out Frank's share, sold out of the business. Hiram Worcester was twice mayor of Rochester, according to his biographical sketch, which includes this photo: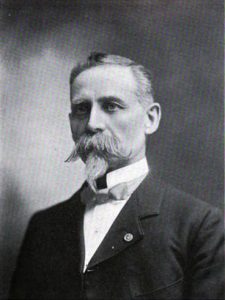 From another Google eBook search we found the following entry for the business in Leading Manufacturers and Merchants of New Hampshire:
"Worcester & Greenfield, Books, Central Square. – The popular headquarters in Rochester for books, stationery, periodicals and literature of all kinds is the establishment of Messrs. Worcester & Greenfield, on Central Square. The business was originally established about fifteen years ago by Mr. I. D. Mooney, the present proprietors succeeding to the control in 1881. To the stranger, from its literary attractiveness, it is a place not to be overlooked, while it is the chief rendezvous to the literature-loving people of this community. To drop in here for the daily paper and a glimpse at the last new book or magazine is an every-day duty with the majority of the people resident here. The stock is large, choice and complete in every department, including the works of standard authors in prose and poetry, the latest publications of English and American writers, in fine bindings and pocket style; toys, games, picture books, writing desks, portfolios, leather goods, and desirable gifts for the holidays in great variety and profusion. The firm also have a circulating library, containing six hundred volumes, which is very liberally patronized by both old and young. There is also a fine assortment of cigars, tobacco and confectionery, and the store is the headquarters in Rochester for the Boston daily and state papers. The members of the firm, Messrs. H. L. Worcester and Frank Greenfield, are young men of enterprise and popularity."
Sources:  Biographical Sketches of Representative Citizens of the State of New Hampshire. Boston:  New England Historical Publishing Company, 1902 (Google.com).

Leading Manufacturers and Merchants of New Hampshire. New York:  International Publishing Co., 1887. (Google.com).