Old photo, circa late 1890s.
Price:  $12.00        Size of photo:  1 and 3/4 x 2 and 5/8″
Sartoria, Buffalo County, Nebraska, on the map below: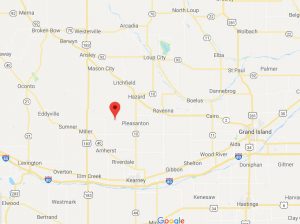 Sometimes you get lucky and sometimes you don't. One pictures an easy pull-up of census records of maybe a Mary or a Margaret (tracing a middle name to Ann) Sullivan in Buffalo County, near or in Sartoria…..indicating beyond a reasonable doubt, a match for the beautiful young woman, that appears (in striped seersucker) in our photo above, and is of presumably Irish descent. But nope, what was found instead were a few possibilities and a fourth that we had to rule out:
Mary Sullivan, single, born Ireland 1874, sister of T. D. Sullivan, clergyman, born Ireland about 1877. Elm Creek, Buffalo County, Nebraska, 1910 Federal Census.
Or…..Mary Sullivan, born about 1878 IL, residence Gibbon township NE from the 1885 State Census, age 7. Daughter of Timothy, born Ireland, and Christie, born Sweden.
Or….Maggie Sullivan, born Michigan 1864, daughter of John C. and Mary Sullivan. Residence Kearney, Buffalo Co., NE on the 1880 Federal Census.
Not our M. A. Sullivan but interesting nonetheless…..
Mary Sullivan, born about Oct 1870 IL, single, schoolteacher, parents Daniel and Julia Sullivan, born Ireland. Beaver NE 1900 Federal Census. This one led us down a long path with detours for Shakespearean research, masques (not masks) and the University of Nebraska. It was this Mary Sullivan, Ph.D. (as far was we can tell not the one in our photo) that wrote Court Masques of James I:  Their Influence on Shakespeare and the Public Theatres, was mentioned in newspaper articles (alas no photo) and finally traced to Schenley High School, 1921, Pittsburgh, PA (with a photo that appears to rule out a match.)
A nice ring to it
Sartoria was settled by Swedish immigrant John Swenson. See Alice S. Howell's "Sartoria, A Lovely Ghost Town." The name of the little village is said to have been coined because it was easy to pronounce. (In Italian the word means "tailoring" but this is just FYI.)
Sources:  Sartoria, Nebraska. Google Maps. (Google.com).
Year: 1910; Census Place: Elm Creek, Buffalo, Nebraska; Roll: T624_839; Page: 4A; Enumeration District: 0035; FHL microfilm: 1374852. (Ancestry.com).
National Archives and Records Administration; Nebraska State Census; Year: 1885; Series/Record Group: M352; County: Buffalo; Township: Gibbon; Page: 5. (Ancestry.com).
Year: 1900; Census Place: Beaver, Buffalo, Nebraska; Page: 7; Enumeration District: 0022. (Ancestry.com).
Year: 1880; Census Place: Kearney, Buffalo, Nebraska; Roll: 743; Page: 263D; Enumeration District: 154. (Ancestry.com).
Masque. n.d. https://en.wikipedia.org/wiki/Masque (accessed March 24, 2018).
The Schenley Journal Class Book (1921) p. 6. Pittsburgh:  Schenley High School. (classmates.com)
Howell, Alice Shaneyfelt. "Sartoria, A Lovely Ghost Town." Buffalo County Historical Society, Vol. 4, number 6. June 1981.