Divided back, unused, Real Photo Postcard. Circa 1950s.
Price:  $15.00
This Real Photo Postcard is one of (at least) four that we see that had been taken, circa 1950s, of an Indian woman named Picking Flower. The other three vintage cards are currently on ebay:  One shows a very similar view to the photo taken for this card, and the other two show Picking Flower standing at the Headwaters of the Mississippi River, Minnesota, with captions. My guess is that she's Chippewa, a.k.a. Ojibwe or Ojibwa, and it's possible she might have been a member of the Mississippi River Band Chippewas, but of course, that is mere speculation. The artwork of flowers and leaves that she's working on (or more likely it was some finished work that was used for the photo shoot) and that which adorns her dress, is very distinctive to Chippewa beadwork design (not to mention stunningly beautiful). Here's a quick screen shot of a Google search for examples (note the similarity in the top right design to that in the postcard.)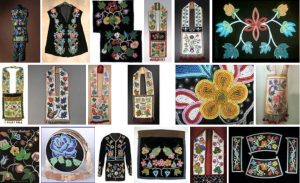 And, if you enlarge the postcard image, you'll notice the little pair of moccasins that's attached to the dress (on her left) and the shells interspersed in the shoulder areas. Always the case, we get to wondering about the circumstances surrounding a photo session, about the person themselves, how they felt at the time, what the rest of their life was like. I think Picking Flower is maybe in her 50s, from the graying hair we note, and she looks like she was squinting a little from the sun, when the photo was taken.
Sources:  Mississippi River Band of Chippewa Indians. n.d. https://en.wikipedia.org/wiki/Mississippi_River_Band_of_Chippewa_Indians (accessed May 21, 2017).
"Images of Chippewa beadwork"  Google.com search. (accessed May 21, 2017).