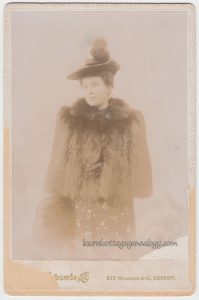 Cabinet Card, 1894 – 1895. Photography by Burton J. Holcombe & Co.
Price:  $6.00       Size:  4 and 1/4 x 6 and 1/2″
The above photo of the beautiful woman with the faraway gaze looks over-exposed or faded, but to me, this enhances the dreamy quality. I think it's true that the more you study a photo, the more it comes to life for you. Was the photographer experimenting with different poses?…the glimpse of the gloved hand, index finger slightly pointing…for depth, a little mystery perhaps, even some subtle humor…."Get on the right track, at Nine Mile and Mack…"  keeps coming to mind – I know, different era, but still!
Here's our Photoshop version below, to try to put ourselves in the photographer's place…maybe better to have her left hand appearing somewhere, since we get the fact that her right holds….no, wait…that's maybe not the muff (to match the fur jacket) that she's holding but a prop she's just standing next to that was then touched up? Though from afar the impression is of someone carrying something, about to go on a short journey.
And yes, it's obvious the card's in somewhat rough shape, but after you time travel back to that point it's funny how you really don't regard the condition. Though we have no i.d. for the woman, we, thankfully, have half a name for the photography studio, along with the address and from this we discover that the bottom of the card read as:  B. J. Holcombe & Co.   212 Woodward ave., Detroit.

B. J. was Burton J. Holcombe. The 1894 and 1895 Detroit city directories show the same address as the one on the card. Multiple directories show that Burton Holcombe had moved frequently, and more detailed information about him will be found in the next post.
Sources:  R. L. Polk & Co.'s Detroit City Directory, 1894. p. 673. Ancestry.com. U.S. City Directories, 1822-1995.
R. L. Polk & Co.'s Detroit City Directory, 1895. p. 698. Ancestry.com. U.S. City Directories, 1822-1995.