Can't find your Irish ancestor in early (prior to 1880) census records? Try searching under IRISHMAN for the surname, whether male or female. (A quick search under IRISHWOMAN only brings up one entry.)

It seems that many families that had hired labor living or boarding with them, didn't know or weren't sure of the hired help's last name, as evidenced when the census taker came 'round. In the case below, family research had already confirmed that Patrick Durning was living in the town of Springport, Cayuga County, NY in 1847, per his Declaration of Intent to become a U.S. citizen. Three months after the 1850 Federal Census for Springport was enumerated, Patrick was naturalized. This event took place in the city of Auburn, where his presence was required. (Auburn is located about ten miles northeast of Springport.) And yet, a search in the 1850, in all of Cayuga County, for Patrick Durning, Durnin, etc. brought up nothing. However, in trying just the first name of Patrick, born in Ireland about 1828, living in Springport….lo and behold, we get an entry recorded as  "Patrick Irishman."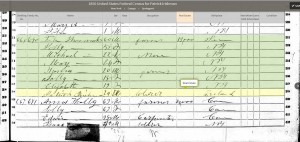 Above, in the green highlighted entries, the Shoemaker Family on the 1850 Federal Census for Springport, Cayuga County, New York. Living with them, highlighted in yellow, is "Patrick Irishman" who, on my own family tree, is the person believed to be my great-great grandfather. His actual surname is DURNING.
Source:  Year: 1850; Census Place: Springport, Cayuga, New York; Roll: M432_483; Page: 215A; Image: 433. (Ancestry.com).
More examples:
One from a census-taker who was being "more precise"…
Here's one that really brings home the point: This man was listed as "Pat An Irishman." He was 36 years old, single, a laborer, and born in Ireland, and living in Leavenworth, Kansas in 1865.

Source:  Kansas State Historical Society; Topeka, Kansas; 1865 Kansas Territory Census; Roll: ks1865_5; Line: 13. (Ancestry.com)
A Wild Irishman in Yuba County, California, 1852
Check out the great entry below for "Wild Irish Man" from the California State Census for Yuba County in 1852. His occupation appears to be Miner, from looking at entries for other persons on prior and subsequent census pages. The category headings (not shown) reveal that he was about 25, born in Ireland, last resided in Ireland, and was not a naturalized citizen. Just think…if this is your guy, that you've done the research on to hopefully trace back to, for this time and place, you not only have his whereabouts at this time but also, at least according to one person, his disposition. Rare for a census record!

Source:  California State Library; Sacramento, California; 1852 California State Census; Roll #: 6; Repository Collection #: C144:6; Page: 62; Line: 11. A. (Ancestry.com)