Divided Back postcard, embossed. Postmarked Tioga, Texas, August 23, 1909. Printed in Germany. 
Price:  $15.00
To My Dear Uncle…..
Great color on this one and a welcome change from the black and white entries we've been posting!
Addressed to:   "Flem Grizzle. Gas City, Kans."
The note on the back is a little hard to decipher. Best guess is:   "Hello. How are you. Bef. noon [?] rec your card and [?] & [?] got [?] Harold picture. They are nice. Wish I was up there with you all. I am at home to night and have been all day alone. Ernest and Willie have gone out [with?] their girls. [?]. Yours [?].
Flem was Jesse Flem Grizzle, born October 13, 1871, Glasgow, Barren County, Kentucky. He married Ida M. (maiden name unknown) about 1894. From the obit below and several census records, it appears that they had two children, Edith and Harold.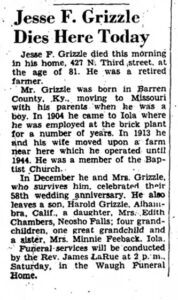 Sources: U.S., Social Security Applications and Claims Index, 1936 – 2007. (Ancestry.com).
Year: 1900; Census Place: Rose Hill, Johnson, Missouri; Roll: 868; Page: 8; Enumeration District: 0114; FHL microfilm: 1240868. (Ancestry.com).
R. L. Polk & Co.'s Iola City Directory, 1906, p. 110. Ancestry.com. U.S., City Directories, 1822 – 1995.
Year: 1920; Census Place: Carlyle, Allen, Kansas; Roll: T625_522; Page: 6A; Enumeration District: 1. (Ancestry.com).
"Jesse F. Grizzle Dies Here Today." The Iola Register. May 6, 1953. Wednesday, p. 1. (Newspapers.com).