Divided Back, embossed postcard. Copyright 1908, Julius Bien & Co., New York. Postmarked March 15, 1909 from Kansas City, Missouri. "St. Patrick" Series Number 740.
Price:  $12.00
Just realized we missed posting a St. Valentine's card last month, oops! But here's a gorgeous one for St. Pat's Day.
Addressed to:   "Miss Elizabeth Waite, Salina, Kansas. Hoyt-West Millinery Co."
The sender wrote:   "Only a postal from Myrtle. I leave here Monday eve for Wellington. Hope you are all O.K."
Elizabeth Waite, according the the 1910 Federal Census was a milliner, so this card was sent c/o her employer. She is the daughter of Isaac Smith Waite and Lizzie Hogle, born native to Ohio. Elizabeth was born in Kansas, October 19, 1884.
In searching for Hoyt-West Millinery, among other mentions, we've clipped part of the "Town Gossip" section of The National Field, March 5, 1908. (How's that for a pretty close date to our postcard?) The interesting thing is the mention of a Myrtle Wilcox accepting a position with Hoyt-West. So, this could be the same Myrtle that sent this card.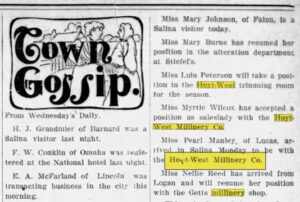 Another clip below; this one mentioning Elizabeth: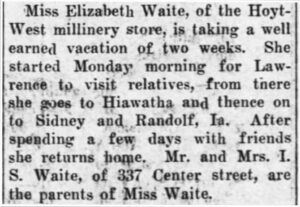 Sources:  Year: 1910; Census Place: Salina Ward 4, Saline, Kansas; Roll: T624_455; Page: 4B; Enumeration District: 0138; FHL microfilm: 1374468. (Ancestry.com).
Find a Grave, database and images (https://www.findagrave.com/memorial/125233967/elizabeth-s-waite: accessed 17 March 2023), memorial page for Elizabeth S. Waite (19 Oct 1884–1 Mar 1983), Find a Grave Memorial ID 125233967, citing Gypsum Hill Cemetery, Salina, Saline County, Kansas, USA; Maintained by Mayflower Pilgrim 332 (contributor 47081711).
"Town Gossip." The National Field, March 5, 1908. Thursday, p. 5. (Newspapers.com).
"Local Items." The Salina Evening Journal.July 20, 1909. Tuesday, p. 2. (Newspapers.com).