Old photo, white border. Circa 1930s – 1940s.
Price:  $10.00          Size:  2 and 13/16 x 3 and 3/4″
An older couple strolling in a shopping district of Memphis, Tennessee. He in suit, tie, hat and horn-rimmed glasses, hands behind back and she in a hat, dark dress with flowered jacket belted at the waist and carrying a pair of white gloves. It's a cute look they have, he's turned towards her slightly, she's smiling up at him. Behind them is a prominent sign showing "Economy Corner, Pantaze." Pantaze was a drug store chain.
The photo's reverse shows the photographer's surname was Bolton and his business venture for these types of snapshots was called The "CANDID." According to city directories and census records Bolton was Richard Bolton, and we're seeing him on the 1910 Federal Census in Greenwood, Mississippi, occupation photographer. By 1912 he's in Memphis, Tennessee working as a "photo finisher" for Engineers & Architects Supply Co. And by at least 1919, he's again under the occupation of photographer. He stays with this vocation until his death in 1955.
Richard Bolton was born July 9, 1888 in Lula, Mississippi, son of West D. Bolton and Callie Louise (Perkins) Bolton. By the 1920 census he's married to Bertha, who was born Nebraska, about 1893. The 1940 shows he is now with wife, Alma, born Tennessee, about 1907. He died in Memphis, December 23, 1955. The death certificate states he was divorced.
Below, worth reading –  love the humor…..♥  The case of the photographer's disappearing Ford, from The Commercial Appeal, May 12, 1923: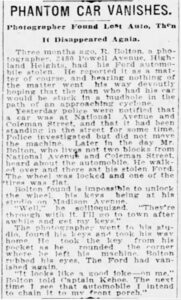 Back to the photo……
What street was our strolling couple on? Unknown, at the moment. Since there were multiple Pantaze Drug Stores (the 1938 city directory, for instance, lists three different stores:  Store No. 1 was located at 38 S. Main; No. 2 was at 209 Beale Ave.; and No. 3 at 531 S. Main) we looked for any added reference to Economy Corner. That was, surprisingly, not found, so maybe someone with knowledge of the old Memphis days can let us know.
I'm aware there's a glitch above with the grayed out wording and am trying to fix it – but it's so appropriate though, kind of like the photographer's car issue. 😉
Sources:  Year: 1910; Census Place: Greenwood South Ward, Leflore, Mississippi; Roll: T624_749; Page: 13B; Enumeration District: 0071; FHL microfilm: 1374762.(Ancestry.com).
R. L. Polk & Co.'s Memphis City Directory, 1912. Page 210. Ancestry.com. U.S., City Directories, 1822-1995.
R. L. Polk & Co.'s Memphis City Directory, 1919. Page 186. Ancestry.com. U.S., City Directories, 1822-1995.
Year: 1920; Census Place: Memphis Ward 4, Shelby, Tennessee; Roll: T625_1763; Page: 1A; Enumeration District: 82. (Ancestry.com).
"Phantom Car Vanishes."  The Commercial Appeal, (Memphis, TN) May 12, 1923. Saturday, p. 7. (Newspapers.com).
R. L. Polk & Co.'s Memphis City Directory, 1938. Page 1602. Ancestry.com. U.S., City Directories, 1822-1995.
Year: 1940; Census Place: Memphis, Shelby, Tennessee; Roll: m-t0627-03963; Page: 1B; Enumeration District: 98-103. (Ancestry.com).
Tennessee State Library and Archives; Nashville, Tennessee; Tennessee Death Records, 1908-1958. (Ancestry.com).