"May Christmas fill thy heart with gladness!"
For anyone tired of the cold and snow, here's a beautiful bouquet of pink roses and a summery nature scene on an artist's palette. The little moon-shaped tableau shows a woman in the foreground with a dog, a man seated a short distance behind her, and a church in the far distance. The publisher's name and date appear below the palette:  Copyright 1886 by L. Prang & Co., Boston.
L. Prang was the influential lithographer and publisher Louis Prang (1824 – 1909) who is referred to as the "father of the American Christmas Card." His Christmas cards were first offered for sale in the United States in 1874, but he is also well-known for publishing major works of art and maps. He was born in Breslau, Prussian Silesia (now Poland) and died in Los Angeles, California. Photo below courtesy Wikipedia. Check out the two links if you have the time, they are quite interesting reading, and a quick search for online images will bring up many examples in a wide range of art and ephemera.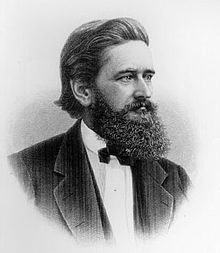 Christmas card, circa 1886. Publisher: L. Prang & Co., Boston, Massachusetts.
Price:  $15.00       Size:  About 5 x 5 and 1/4″
Sources:  Kavanagh, Marybeth. "Louis Prang, Father of the American Christmas Card." New York Historical Society,  December 19, 2012. Web accessed December 24, 2015.
Louis Prang. n.d. https://en.wikipedia.org/wiki/Louis_Prang. (accessed December 24, 2015).