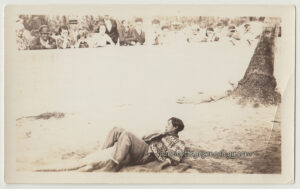 Old photo, white border. Circa 1920s – 1930s.
Price:  $5.00           Size:  2 and 3/4 x 4 and 1/2″
The condition of this one is not great – with the crease on the bottom right and the image being pretty washed out, but it is one of a kind, and that's always nice, since it was taken by an individual, rather than produced in numbers for the tourist trade. It shows a young man of the Seminole Nation, his legs on either side of a belly-up alligator, gator's snout to young man's chin; a line of spectators in the back; and another gator, under the palm tree. Enlarge the image (twice) for a better look.
See the links below for a few articles on the subject of alligator wrestling. And maybe you've had a similar experience, so I'll share something here:  Rarely have I felt so overwhelmed by a photo:
I've been wrestling (no pun intended) with finishing this post, having re-written it several times – and have come to the conclusion that this photo is "weighty" for me. For one thing, a doorway to history – flipping back thru time with the Seminole people – life before tourism, before the tragedy of the Glades being diminished, pride for the Seminoles to have never signed a "peace" treaty with the U.S. government…..And this photo's era – Florida in the '20's and '30's being a particular draw for me – that déja vu feeling, with it's invariable why?……And questions for the present and future, our planet and its welfare (anguish) gators and all, and then jumping back to this particular gator and this particular wrestler, and the feelings and impressions of those spectators…. Multiple pathways to travel down. Maybe I'll be drawn back to it all later, when I'm older and hopefully, wiser.
Some related articles:
Fitzner, Zach. "Alligator wrestling in Florida may soon become a thing of the  past." Earth.com, April 18, 2019. https://www.earth.com/news/alligator-wrestling-florida/ (accessed November 20, 2022).
Lipscomb, Jessica. "Study, Actually Alligator Wrestling Is Bad." Miami New Times, November 24, 2020. https://www.miaminewtimes.com/news/study-says-floridas-alligator-wrestling-attractions-are-harmful-11748501 (accessed November 20, 2022).
Oztaskin, Murat. "How Florida's Seminole Tribe Transformed Alligator Wrestling Into A Symbol of Independence." The New Yorker, January 27, 2021. https://www.newyorker.com/culture/the-new-yorker-documentary/how-floridas-seminole-tribe-transformed-alligator-wrestling-into-a-symbol-of-independence. (accessed November 20, 2022).