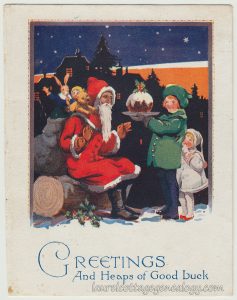 Christmas card, publisher and date unknown. Circa 1900s – 1930s.
Price:  $4.00       Size:  About 3 and 1/4 x 4 and 1/4″
In looking up Christmas pudding images we linked to a lovely website (one of many, for sure, but we stopped at the one) with a recipe, and discovered an unlooked-for but welcome answer to the full meaning behind the title of the card:  A silver coin or trinket was traditionally baked into the dessert and whoever found it was supposed to be granted good luck. How nice that the children are offering the dessert to Santa (a skinny Santa, at that). And he must be taking a break from deliveries, as he still has toys spilling out of his very full bag of goodies. Back to the pudding – not a pudding in the American sense, but in the British use of the word (a dish, either savory or sweet, that's steamed or boiled in something). In this case, a steamed cake made weeks ahead with dried fruit and spices…..then topped with brandy and set aflame (remember the scene in Dickens' A Christmas Carol?) then topped off with cream sauce and garnished with holly.
Sources:   "Traditional British Christmas Pudding (a Make Ahead, Fruit and Brandy Filled, Steamed Dessert)." December 3, 2016. (www.christinascucina.com).
Nelson, Libby. "British desserts, explained for Americans confused by the Great British Baking Show." November 29, 2015. (www.vox.com).