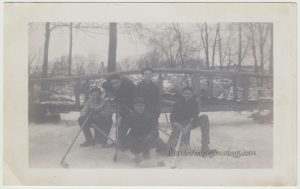 Vintage photo, white border, circa 1950s.
Price:  $4.00         Size: 4 and 7/8 x 3″

It's hockey season again, yay!
These guys are happily posing with their sticks on a frozen stream, by the looks of it. There's a rustic wooden bridge behind them. Easy to miss in the background is an Esso gas station sign. No writing on the back but this photo was found (at the paper fair in San Francisco) in a large box of loose photos next to other ephemera of French-Canadian origin, which we'll be posting next…..But hey, where are the guys' skates? And one more question:  Could the sticks have been handmade? Just wondering because of the lack of any company name appearing on them, especially on the goalie's, the wider one, in the front center. And in googling Esso we discovered a major connection to the sport.
Cropped shot of the Esso sign appearing in the photo: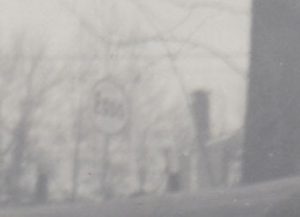 Some trivia….
First of all, did you know that the name Esso is just the pronunciation of the S and O for Standard Oil?
The first NHL game broadcast on the radio was in 1936 and was sponsored by the Esso brand.
The three stars awarded in NHL games originated as a way to advertise Imperial's three star brand of gasoline.
See the Imperial/Esso/Mobil link for more.
Source:  Esso and Mobil:  Our History. https://www.esso.ca/en/our-history. Accessed October 27, 2019.