Divided Back, Real Photo Postcard, unused. August 1, 1911. Artura stamp box.
Price:  $15.00
"Taken Aug. 1st at Redondo."
The scene behind Kate is, of course, a photographer's backdrop, and a nice one at that, with its breaking waves, rocks, lighthouse and distant ship. Holding a pastel striped parasol (note the optical illusion – it appears to be inside-out) and in a graceful pose with natural-looking head tilt (the photographer must have loved her!) Kate is trim-waisted in long skirt, belt, and a white blouse – pleats, cuffs, and a collar folding down into a wide tie – perfect for the seaside look. I'm trying to figure out that hat with it's missing center part – maybe just a wired velvet half-wrap with velvet flower on the side. Different, but not surprising given the myriad of styles showing up in old photos and postcards.
The surname on the back is a little hard to read but Hang is the only name that fits, according to records found, though there are not many, and the name is often misspelled "Haug."
1916 Voter Registration:  310B Metcalf St, Los Angeles, CA. Mrs. Katie Hang. Spouse, John is a cook.
1920 and 1924 Voter Registrations: John and Kate, 1668 Echo Park Ave, Los Angeles. John works for the American Railway Express. Name spelled "Haug."
1918 WWI Draft Registration for John Hang: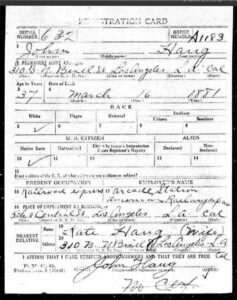 1934 Voter Registration and 1937 City Directory – John (clerk) and Kate. 710 Lucretia Ave. Name spelled "Haug."
Sources:  U.S. World War I Draft Registration Cards, 1917-1918. (Ancestry.com).
Railway Express Agency. n.d. https://en.wikipedia.org/wiki/Railway_Express_Agency (accessed September 13, 2022).
Los Angeles County, California, U.S. Voter Registrations, 1900-1968.  (Ancestry.com).
Los Angeles Directory Co.'s Los Angeles City Directory, 1937. p. 882. (Ancestry.com).