Divided Back postcard. Postmarked June 22, 1912, Alexandria, Egypt. Publisher:  POF or OPF. Stamp:  Postes Egyptiennes, Cinq Milliemes, rose color.

Price:  $15.00
La Crue du Nile…..The Flood of the Nile
The flooding of the Nile was usually an event each August before the Aswan High Dam was built in 1970. If you have time, take a look at this great article on the Saudi Aramco World site, "The Last Nile Flood," by John Feeney.
This postcard was produced from a photo; at the time of this post, there's a colorized version of the same scene available on eBay, but from a different publisher. The scene is two boys seated on a water buffalo, a man in charge of the animal at the reigns, and two men in charge of a camel, the one holding onto the camel's tail. The boys and men are all posing for the camera.
Addressed to:   "Yonge juffrouw Lucie van Veen, Keizersgracht 254, Amsterdam Holland."

The sender wrote:
"Alexandrië 22 Juni 1912. Beste Lucie, Ik ben nog niet op en kameel geweest, maar ik hed er al meer dan een op straat ontinoef. Ik denk heel dikwyils aan jullie allen en hoop dat je je niet te veel verveelt. Vele groeten."
Translated from Google as:   "Dear Lucie, I haven't ridden a camel yet, but I've seen more than one in the street already. I'm thinking of you all very often and hope you're not bored too much. Many regards, Anie Schulthess."
What a great way to start a postcard line, "I haven't ridden a camel yet." Love it! Neither Anie nor Lucie are showing up on Ancestry, however it's always possible their descendants will find this card. We listed the type of stamp for the stamp collectors out there. The publisher's a bit of a mystery:  Assuming that the initials go in the order of POF, if not OPF, however we're not finding any other like this online right now or in the usual sources we consult (Metropostcard, Walter Corson's Publishers' Trademarks Identified and several others). Here's the logo that's appearing on the front of the card, bottom right: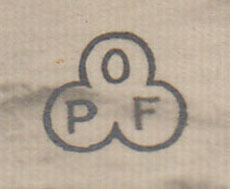 Source:  Feeney, John. "The Last Nile Flood." May/June issue of 2003, Volume 57, Number 3. https://archive.aramcoworld.com/issue/200603/the.last.nile.flood.htm (accessed June 1, 2022).