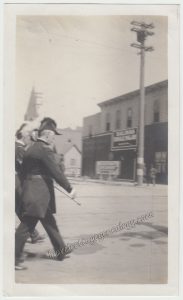 Old photo, circa 1907. San Jose, California
Price:  $12.00           Size:  About 2 and 1/2 x 4 and 1/4″

Striding purposefully, two gentlemen, Freemasons by their attire, maybe on the way to a meeting. That particular headgear was sometimes called a "fore-and-aft" hat, and these in the photo would have been adorned with ostrich or possibly egret feathers. The Masonic Hall address was 262-272 S. First St., San Jose, about a half mile away from the restaurant in the background, the Salinas Tamale Parlor, address 203 Post St., northwest corner of Market St., in San Jose.
So, there was a Salinas Tamale Parlor in the city of Salinas in 1926, but the locale and age of the photo doesn't fit. Click on the History San José site, to see what appears to be the same steeple (on the right) as the one in our photo. The church was the Swedish Lutheran Emmanuel Church, located at the northwest corner of Market and Auzerais, in San Jose.
The advertisement below appeared in the San Jose city directory for 1907. The printer apparently got the name wrong. "Gabilan Angle" should have been Angel Gabilan. There were four other tamale parlors in San Jose in 1907, however Salinas Tamale was the only one to have run an ad, at least in that directory.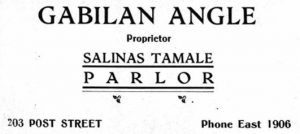 Voter registrations and city directories have the misspelled "Angle", as well as Angel and Angelo and sometimes given with a middle name, spelled Teneselo or Tanislado. Angel Gabilan relocated to San Francisco at least by 1913, according to the city directory under "Angle T. Gablian" occupation restaurant owner, address 1615 1/2 O'Farrell St.
We found no indication of there being anyone else by the same name in San Jose and later San Francisco, so it would seem that the Angel Gabilan (born 1845 in either California or Mexico) that is connected with this photo, is likely the son of Pablo Gabilan (native of Chile) and Clara Montoya. The obituary for Angel's father, from the San Jose Evening News, January 1902, is of historical interest, and tells how the Gabilan Mountain Range got its name: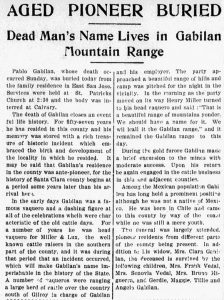 Sources:  "fore-and-aft." https://www.merriam-webster.com/dictionary/fore-and-aft.
"Looking South on Market Street from City Hall, 1890." https://historysanjose.pastperfectonline.com/photo/F753869E-035D-4D83-AC1C-204509509941 (accessed February 23, 2022).
California State Library; Sacramento, California; Great Registers, 1866-1898; Collection Number: 4-2A; CSL Roll Number: 126; FHL Roll Number: 977290. (Ancestry.com).
Polk-Husted Directory Companies, 1907-8, San Jose City and Santa Clara County, California, pp. 595 and 809. Ancestry.com. U.S., City Directories, 1822-1995.
Crocker-Langley San Francisco City Directory, 1913. p. 718. Ancestry.com. U.S., City Directories, 1822-1995.
California State Library; Sacramento, California; Great Register of Voters, 1900-1968. (Ancestry.com).
Find a Grave. https://www.findagrave.com/memorial/132883494/angelo-t-gabilan.
"Aged Pioneer Buried." San Jose Evening News. Tuesday, January 21, 1902. (Genealogybank.com).