Divided Back, Real Photo Postcard, unused. AZO stamp box. Circa 1907 – 1918.
Price:  $7.00
No i.d. for this one. Why did I buy it? I like the contrasting fabrics, the plaid and the stripes – all that cotton. Refreshing to see in our day and age of synthetics. The girls' expressions are so sweet, and there's the mom's narrowed (maybe a vision thing) but steady gaze, she's slouched in the chair (a little unusual but that could have been according to where the photographer wanted her to appear, with the girls standing taller). The mom is wearing wire-rimmed spectacles, a watch and chain and a flat-topped hat. (There seemingly were no end to hat styles.)
One thing of note is the pattern on the younger girl's dress, (click twice on the card image to enlarge). They're a little hard to make out but those are (not pinwheels) but swastikas – the original meaning of this ancient symbol represented good luck. For more on that subject see the BBC article link below in "Sources".
Since old newspaper articles and ads reveal a lot we always like to check them for proof of what was actually going on at the time; pretty enlightening in this case, as they do indeed confirm the swastika as a phenom and when it had become popular (again). From Newspapers.com, starting around 1899 with 126 search results for "swastika" in the U.S., ads start appearing for products such as Swastika Stationary. (Bear in mind that many of these are instructional articles and, of course, there are always duplicate articles that appeared in multiple newspapers.) From 1899 through 1905 the results are in the 100 or 200 range. Then in 1906 it jumps to 787 results, and in 1907 it has skyrocketed to 9,875.
Below, a portion of a long article that appeared in the Washington D.C. Evening Star, September 1907, stating the then-current fad in the U.S. came from across the Atlantic, France actually. Caution:  Don't take this as gospel – it could certainly be correct but we wouldn't want to say for sure without extensive research.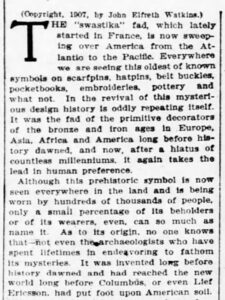 There is also the probability that the symbol's popularity was influenced by author and poet, Rudyard Kipling:  The author had requested previously (year unknown) that his father (an artist) design an emblem for him for book covers. See the images in this link of the elephant, lotus flower and swastika design (and subsequent image, minus the swastika). Kipling, in 1899, filed a lawsuit (which he lost, but that's another story) against some publishers for copyright infringement (lower left from the Chicago Tribune, April 1899). Later in 1899 we see ads appearing nationwide, like the article on our right from The Los Angeles Times, August 1899:
One last note:  After readily falling down the rabbit hole for most of this post, we don't want to forget to mention that the end date for our postcard is from Playle.com regarding the AZO stamp box, with all four triangles pointing upward.
Sources:  "How the world loved the swastika – until Hitler stole it." October 23, 2014. https://www.bbc.com/news/magazine-29644591. (Accessed December 4, 2023).
"Swastikas vs. Corbetts For Today's Game." Arizona Daily Star, March 22, 1908. Sunday, p. 2. (Newspapers.com).
"The Filigree Swastika Latest Form Of The Emblem."  Albuquerque Journal. June 25, 1906. Monday, p. 4. (Newspapers.com).
"The Latest Out." The Fort Wayne Journal-Gazette. (Fort Wayne, Indiana).December 3, 1899. Sunday, p. 3. (Newspapers.com).
Search results for "swastika" from years 1898 – 1907. (Newspapers.com).
Watkins, Jake E. "Swastika, World's Oldest Symbol Is Latest Fad. Modern Use Of This Ancient Good-Luck Sign." Evening Star. (Washington, D. C.). September 7, 1907. Saturday, p. 21. (Newspapers.com).
"Tells of Kipling Books." Chicago Tribune. April 28, 1899. Friday, p. 5. (Newspapers.com).
"Books." The Los Angeles Times. August 24, 1899. Thursday, p. 9. (Newspapers.com).
"Kipling Loses His Suit Against The Putnams." The Publishers' Weekly. No. 1616. January 17, 1903, pp. 80-81. (Google.com).
"Real Photo Postcard Stamp Boxes. A – B." playle.com. (accessed December 7, 2023).