Divided Back, Real Photo Postcard, unused. Deckled edge. Circa 1910's. Photographer:  E. Hunter, Schlettstadt. Pt. 773/II. 
Price:  $15.00
An unusual photographic pose if we ever saw one! The whimsical Augustine, wife of Julien Duller, pauses at a "doorway," her left hand is on the invisible door nob. She's smiling (with sort of a "knowing" look) back at the camera.
The date is unknown for this card:  The stamp box, one we've never come across, is blank except for a small six-pointed star in each of the bottom corners. But we'll estimate the 1910's due to the subject's dress – fitted, column-style in dark wool or maybe linen or heavy cotton; displaying a shawl collar in silk or satin with matching material in a wide band below the bust line; and decorative bands on hip and sleeves. The dress falls below mid-calf to reveal high button-top boots. Her hair is dressed in a short side-part, (dig that one falling curl) up-swept and piled tightly on top for a little height. On her right hand, she wears a pocket watch that was converted into a wristwatch. In the insert below, you can see what's referred to as "the bow," which is the part that the chain would have been suspended from – a nice, surprising detail, and possibly an important clue to the postcard's date, as it was WWI that ushered in the popularity of the wristwatch.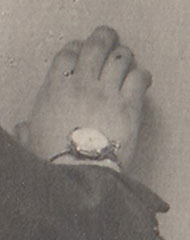 The photographer, E. Hunter, was not found online in any references, but his stamp tells us he was in Schlettstadt, (Sélestat in French and Schlettstàdt in Alsatian) a town in the Grand Est region of France, on the border of Germany.
As for those few words from Augustine, in her beautiful script:  I'm not sure what the first word is but the next would be andenken, and the third looks like genidmet:  translation from German appearing as "souvenir" and "dedicated." So it's probably something in the nature of "fond remembrances" but maybe a native German (or Alsation?) can help us out.
Sources:  Pocket watch. n.d. https://en.wikipedia.org/wiki/Pocket_watch#:~:text=In%20men's%20fashions  %2C%20pocket%20watches,one%20kept%20in%20a%20pocket. (accessed April 30, 2023).
Sélestat. n.d. https://en.wikipedia.org/wiki/S%C3%A9lestat (accessed April 30, 2023).