Photo of the ferry Romeo and Juliette on the Kennebecasis River with something not often found on the back (and totally awesome) – a hand drawn map of the area. There are three vehicles that we can see that are making this ferry trip. The one on the right appears to be a 1967 Chevy Biscayne. The middle may be a '67 Plymouth Belvedere. This photo then would be from about 1967 to maybe the early '70s.
According to a Wikipedia entry, the Romeo and Juliette's former service route had been between downtown Chatham and Ferry Road, but upon the opening of the Centennial Bridge, a steel arch bridge crossing the Miramichi River in Northumberland County, New Brunswick, the Romeo and Juliette's service was moved to a route across Kennebecasis Bay between Summerville and Millidgeville, near St. John. This was in 1967.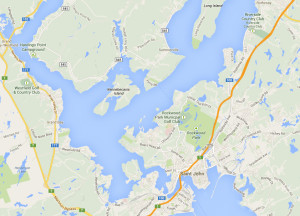 In comparing the drawing to an actual map of the area, we can see that ours must have been just a quick sketch to give the receiver a general idea of the area, and well, it's not that easy to draw a map of rivers, islands, towns etc. on the back of a photograph. The island indicated in the drawing must be Kennebecasis Island since it's that island that is situated in the intersection of the St. John and Kennebecasis rivers. Anyway, the degree of accuracy in the sketch is not important, we just appreciate the fact that the person drew this map on the back of this great photo, and that this photo made it's way all the way out to California to be picked up some forty-something or so years later. (And just to mention that looking at present-day photos of the area leaves us with a definite longing to go up to one of those cottages for a summer.)
The Romeo and Juliette was a passenger and vehicle ferry, built in 1953 at Owen Sound, Ontario and launched on April 16, 1953 by Russel Brothers, Ltd. She was built from steel, was about 79′ in length, weighed 234 gross tons, and could carry 21 cars. According to a CBC article, the "much-loved" Romeo and Juliette made her last run (a ceremonial last run with present and past crew members) at the end of December 2001. She had operated for 48 years, carrying cars from New Brunswick to Québec in the 1950s, working the Miramichi River in part of the '60s and from 1967 through 2001 worked the St. John area that we've been looking at here.
Availability Status:  SOLD
Sources:  http://en.wikipedia.org/wiki/Centennial_Bridge_%28New_Brunswick%29
https://maps.google.com
http://stevebriggs.netfirms.com/osmrm/xromeoandjuliette.html
http://www.cbc.ca/news/canada/n-b-ferry-makes-its-last-run-1.267025