Divided back, Real Photo Postcard, unused. Publisher:  The L.L. Cook Co., Milwaukee. Circa 1950s – 1960s.
Price:  $5.00
In keeping with a short "water theme" here's a Real Photo Postcard showing a beautiful black and white shot of Golda's Mill in Tahlequah, OK. This mill was placed on the National Register of Historical Places in 1972, and was still a working mill when it was unfortunately destroyed by fire in 1983.
According to a Wikipedia article it was build by Dr. Nicholas Bitting around 1882, at the site of a previous mill. Nicholas Bitting, M.D. shows up on the 1900 Federal Census in Tahlequah, Cherokee Nation County, Indian Territory, as head of household. The census gives his occupation as Druggist, and he appears there with his wife, Mary J. and sons Nicholas, William and John. He was born in North Carolina in March of 1845, which would have made him about 37 years old when he built the mill. It's always nice to see confirmation in census or other records, but looking further…
Much more about the mill was found in the following fascinating newspaper clip, which takes us back to the 1830s when the original mill was built, up to 1974 when the article was written. Golda was Golda Unkefer…the metal wheel that replaced the wooden one was made in France…the first mill was built by Cherokees, Tom Taylor and his wife, and the slaves they brought with them from Texas. (Just click to enlarge.)
Update:  Inspired by the recent comments from Jim (September 6, 2018) we went hunting for more info, under the title of Bitting Springs, this time. Turns out there are many more articles to be found, but here's a good one under the title, "Water Wheel Created Memories Along With Bags of Cornmeal" by Jim Etter, for The Daily Oklahoman, dated June 20, 1993: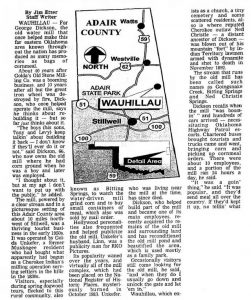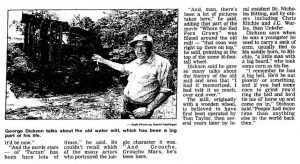 Sources:  Golda's Mill. n.d. https://en.wikipedia.org/wiki/Golda's_Mill. (accessed August 15, 2015).
National Register of Historic Places. n.d. https://en.wikipedia.org/wiki/National_Register_of_Historic_Places. (accessed August 15, 2015)
Year: 1900; Census Place: Tahlequah, Cherokee Nation, Indian Territory; Roll: 1845; Enumeration District: 0033; FHL microfilm: 1241845. (Ancestry.com)

"Old Corn Mill Still Grinding" The Eagle (Bryan,
TX), November 24, 1974, p. 36. (Newspapers.com).
Etter, Jim. "Water Wheel Created Memories Along With Bags of Cornmeal." The Daily Oklahoman. June 20, 1993, Sunday, p. 6. (Newspapers.com).