Undivided back, used postcard. Postmarked April 1, 1909, from Santa Rosa, California. Publisher:  A.T. F. Co.
Price:  $8.00
This is the first in a collection from Miss Lily Rea. Her address at this time is Box 23, Gilroy, California. We'll get more detailed in later posts, but for now, this one is up due to it being April Fool's Day. Lily's friend, Hazel writes:
"April Fool. Ha! Ha. Apr. 1. 09. Recieved your card glad to know you are well. Hope to see a picture of you soon. I recieved a card from George Wells to day. Who showed you the picture of L & I. Sure all my friends are nice looking & he is a swell kid too. I hope you can meet him some day. Ans. soon  Hazel. Regards to Rocky.
The card's design, Noah's Ark on Mount Ararat, (an elephant and giraffe survey the receding flood) and the caption, "The Original Water-Wagon,"  got me wondering why this card was so current to the times. Here's a screen shot of a Google search "water wagon images in the early 1900s" showing some great old photos and some comic cards: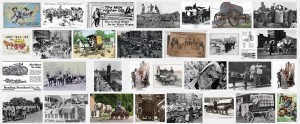 And see  Origin of the idiom 'falling off the wagon' from StackExchange for the origin of being on and off the wagon.
Sources:  "Water wagon images in the early 1900s" Google image search. (Accessed April 1, 2016.)
"Origin of the idiom 'falling off the wagon'."  StackExchange.com. (Accessed April 1, 2016.)