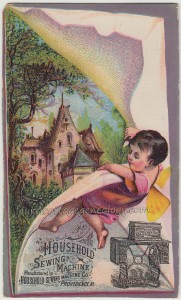 Trade card, circa 1882 – 1890s, for the Household Sewing Machine Company. Many differently designed trade cards can be found online for this company, some showing Household as the manufacturer and the earlier showing Providence Tool Company. This particular one shows a winged imp or fairy opening the back of an envelope (a common theme back in the day) to reveal a beautiful Gothic Revival (?) mansion nestled back among some surrounding trees.
The illustrations and company info below can be found in the 1889 publication The Industrial Advantages of Providence, R. I. (Google eBook).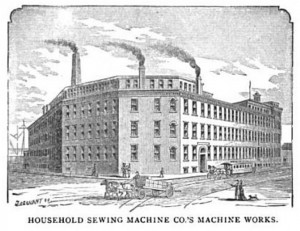 Household's Machine Plant at 103 Wickenden Street, Providence, Rhode Island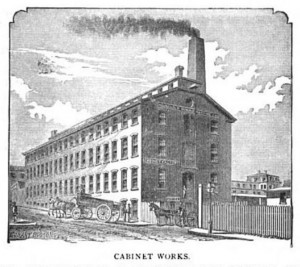 Household's Cabinet Plant at Crary and Langley Streets, Providence, Rhode Island
The Household Sewing Machine Company was incorporated in August of 1882, having purchased the Providence Tool Company (where the first Household sewing machines were made.) Both the machine and cabinet plants were steam-operated and in 1889 employed about 325 skilled workmen. The cabinet shop produced  "…high class cabinet work for all kinds of other manufacturers…"  as well as the wooden cabinets and cases for Household sewing machines, though the company's chief product was it's sewing machine.
Household went out of business in 1905 (or perhaps officially in 1906 if various online sources are correct.) The following are two newspaper clips showing their auction ad, and shortly afterward, someone advertising his purchases from this auction, which he was then selling…. All a little sad, but imagine today what a picker's dream it would have been!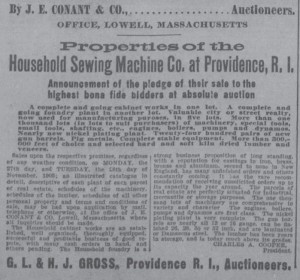 November 1905 auction ad from the Boston Daily Globe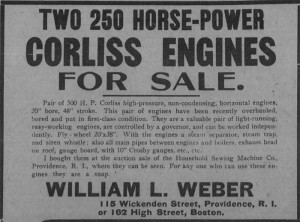 December 1905 ad from the Boston Daily Globe for Corliss Engines for sale
Note:  Since we do keep finding these "Into Or Out Of The Envelope" type designs on trade cards, postcards and the like, a separate category will go up now, under this ridiculously long title. I thought about lumping them in with our Breakthrough category, but really they deserve their own space, since the two themes are related but not the same.
Trade Card. Circa 1882 – 1890s. Household Sewing Machine Co.
Price:  $10.00           Size:  About 2 and 3/4 x 4 and 3/4″
Sources:   McKinney, James P. (Ed.). (1889).  The Industrial Advantages of Providence, R. I.  Providence, RI:  Jas. P. McKinney. (Google eBook).
The Boston Daily Globe. 22 November 1905, Wednesday, p. 1. (Newspapers.com)
The Boston Daily Globe. 6 December 1905, Wednesday, p. 20. (Newspapers.com)