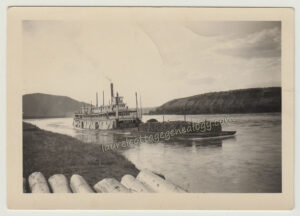 Old photo, white border. Circa 1901 – 1910's.
Price:  $15.00            Size:  About 3 and 1/2 x 2 and 1/2″   
The sternwheeler White Horse pushing a load of lumber on the Yukon River….
Our photo above, as usual, was resized for the web and though you can enlarge the image (twice) the boat's name (on the pilothouse) still won't be readable. Below, a crop of the larger image size – here you may be able to make out what looks like "Horse" or "Morse." Checking online, there were some possibilities under Morse but not being really convinced, I tried Horse and then thought of what might precede that word. This is the type where you can look at something fifteen times, give up, glance one last time and suddenly it seems to come into focus. (Maybe it's intuition, I don't know, but whatever it is, it's always most welcome!)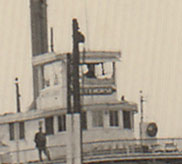 White Horse, later Whitehorse, was a sternwheel paddle steamer built in 1901 by the British Yukon Navigation Co. Her last trip on the river was made in 1955. See an excellent article on the Explore North website for details, including a timeline of some of her adventures and fate after retirement.
Below, an article from The Vancouver Sun, June 1916. In this neck of the woods it's all about the ice: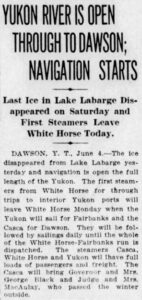 Sources:  Lundberg, Murray. The Sternwheeler White Horse (later Whitehorse). https://explorenorth.com/library/ships/white_horse.html. (accessed August 13, 2023).
"Yukon River is Open Through to Dawson; Navigation Starts."  The Vancouver Sun, June 5, 1916. Monday, p. 1. (Newspapers.com).