The page below had likely been part of a publication on Lake County history or maybe German immigrants to Indiana. Per the writing on the back, it had been saved by a Scheunemann and Raasch descendant, until it later ended up at a paper fair, where we found it.
Size of full page:   About 9 x 5 and 1/2″        Size of image:  6 x 2 and 3/4″
Price:  $10.00
A page out of Gary, Indiana history….circa 1880s – 1890s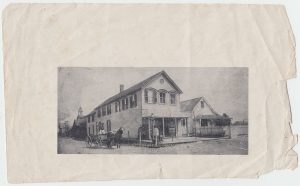 "Uncle Fred. Scheunemans store in Gary with Aunt Alice, Alma & Walt & their hired girl standing[?] also Uncle Fred…[?]… Granpa Raasch was the delivery man, Granpa Scheuneman & Aunt Minnie's home next door to south & Uncle Fred &…[?]…lives up stairs above store."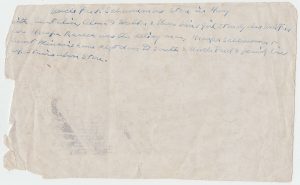 Cropped version below. The sign on the right in the photo is quite difficult to read, and we could be wrong, but the first two lines look like "Howe. U.S."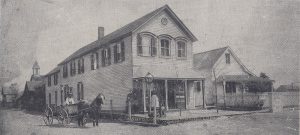 Below, the 1880 Federal Census for Tolleston, Indiana (now part of Gary) shows Fred Schoeneman (Sheuneman) born 1830, his occupation listed as Extra Sand [?] something to do with the sand mining industry; his wife Wilhemina, born 1825; son Fritz, born 1855, working in general grocery store and bar; daughter Gusty, born 1860, clerk in store; son Richard, born 1863, works on railroad; and daughter Wilhelmine, born 1868, keeping house. All are stated to be from "Pommern" except for Wilhemine, born in Indiana.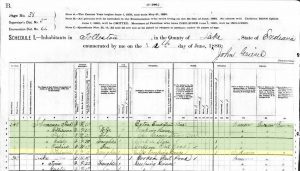 Below, the 1900 Federal Census for Calumet, Indiana also may fit the Scheuneman family that owned the store. (The ages fit if Ludwig is Fred and for daughter Wilhelmina.) Appearing there are Ludwig Scheunemann, born May 1830, Germany, widowed; daughter Wilhelmina, born November 1868, Indiana, single. Living next door is William C. Bunde, born April 1871, Indiana; his wife Emma, born November 1875, Indiana; stepchildren (to William Bunde, if census is correct) Alma Scheunemann, born February 1883, Indiana and Walter Scheunemann, born December 1885, Indiana; and servant August Wagner, born October 1880, Germany. Note that August Wagner's occupation is grocer-delivery man.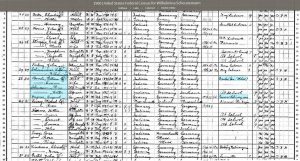 Sources:  Year: 1880; Census Place: Tolleston, Lake, Indiana; Roll: 291; Family History Film: 1254291; Page: 487B; Enumeration District: 066; Image: 0393. (Ancestry.com)

Year: 1900; Census Place: Calumet, Lake, Indiana; Roll: 383; Page: 2A; Enumeration District: 0022; FHL microfilm: 1240383. (Ancestry.com)

Tolleston. n.d. https://en.wikipedia.org/wiki/Tolleston. (accessed October 29, 2016).
Pomerania. n.d. https://en.wikipedia.org/wiki/Pomerania. (accessed October 30, 2016).