Real Photo Postcard showing a gorgeous photo of four beautiful ladies (three women and a child) posed in a field of tall grass. One of the women holds an umbrella, which may have been just for providing shelter from the sun, but it could have been brought along for the rain too, as we can see that the sky holds some dark clouds. I think the family relation is probably a mother and child and the mother's older and younger sister. There is something quite interesting about this photo, though. If flipped in Photoshop it will show that the woman holding the little girl wears the ring on her left hand rather than on her right. If the photo was reversed when processed by the photography studio, then that changes the assumption of who the child's mother is in the photo. (Unless the woman is wearing an engagement ring, and the mother is the woman in the center.) However, the little girl, and woman holding her, both wear checkered dresses, and we can well imagine that the little girl might have been proud to be wearing "a dress like Mommy." Also, the woman in question appears to maybe be pregnant. Here below is the image reversed in Photoshop, and I think that this is the correct interpretation. In any case, this is just a beauty of a photo. Too bad there were no names or even a place name written on the card, but it's a divided back card and the stamp box is an AZO with all four triangles pointing upward, which dates the postcard from about 1907 – 1918.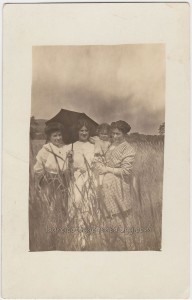 Divided back, Real Photo Postcard, Unused. AZO stamp box. Circa 1907 – 1918.
Price:  $10.00  Digital copy of reverse image also available.