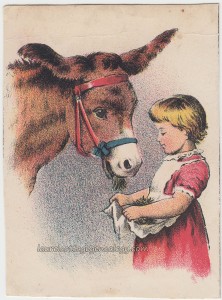 Old card, circa 1890s.
Price:  $5.00   Size:  3 and 1/2 x 2 and 5/8″
Adorable small print of a little blond girl and her donkey. At least I think that's a donkey. The girl wears a red dress and has her white apron extended for holding the greenery that her donkey is eating. The donkey in particular has such a sweet expression. There is nothing on the back except for the markings of the scrap book glue, but someone surely appreciated this image since it's survived for so long. Estimated date 1890s.