Divided Backs, Linens, unused postcards. Circa 1940s. Publisher (top card):  G. W. Romer. A "Colourpicture" Publication, Cambridge, Mass. Series 12176.  Publisher (bottom card):  "Tichnor Quality Views." Tichnor Bros., Inc., Boston, Mass. Series 69514.
Price:  $7.00 for the pair
Description (top card):
"Musa Isle, Home of the Seminole Indian. N. W. 25th Ave. & 16th St. Miami, Fla.
"The Baby Is Too Sleepy to Be Interested – See the Seminole Indians in Their Own Village at Musa Isle." 
Description (bottom card):
"The only 'Indian Nation,' that has not signed a Peace Treaty with the U. S. A., still carries on in primitive fashion, the tribal lure of its ancestors in the Everglades, Florida."
So, I've been away way too long from posting articles (chalking it up to "life – oy vey" 😉 and also working on my own family tree – having found a diary, of all things, for mine and siblings, 2nd-great grandfather. Yes, you guys, they're out there. Proof, if we needed it, to never give up the search. People donate things to museums, snippets of such events get picked up on the internet….and we, for unknown reasons, Google a name we haven't researched for years, and get blown away by the unexpected results. So, before moving to holiday cards, we'll briefly continue with this "alligator morphing into Seminole Indian theme," with a couple of the numerous tourist postcards from the Seminole Nation back in the day. And, we couldn't even begin to do justice, in a short blog article, to the history of the land and people, so we'll settle for some bits and pieces, sparked by a few forays into old newspaper articles:
Musa Isle – a little background
Musa Isle was part of a small "inland island" called Marshall's Key, located between the north and south forks of the Miami River and near the city's limits (according to an article from 1914). The area, boasting exceptionally good soil, was procured by a number of farmers and fruit growers. All the farms and groves had their own names but the "Musa Isle" endeavor ended up becoming so well-known that, as a misnomer, the name was often applied to the whole Key. Very understandable, as that particular grove became a popular tourist attraction famous for its fruit. Fifty-four varieties were raised there, as well as different types of palm trees.
Origin of a name
It's been reported, in a very lengthy article written in 1921 (see first source below) the author having learned from "local history," that the name Musa Isle was coined around 1896-97 by Charles O. Richardson. (The name comes from Musaceae, the botanical name for banana.) He and his wife were theater performers of twenty years who were looking for a change. They moved to Florida and established their tropical fruit plantation. C. O.'s father, James Richardson, was already in Florida, possibly on the property, or having started in another locale, farming. But accounts vary, so we'd be safe to say James and C. O. Richardson were the principles involved. Later the property changed hands.
The penalties of progress
Jumping to a March of 1922 clip, Musa Isle Grove was giving over to "progress". Below, from a larger article that appeared in The Miami Herald, March 19, 1922.
Next, the Seminoles – a brief (we've been pogo stick jumping) "landing" with regard to tourism
A Seminole named Willie Willie started leasing a section of Musa Isle in 1919.  Toward the end of 1921, he turned the operation into a tourist attraction. Below, an article from the Miami News, October 25, 1921 (click to enlarge):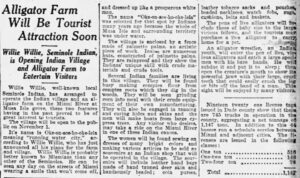 Lastly (for now) a jump to our 2022 perspective…..
Wow. If you've read the full article, you've likely been horrified, same as me:  As a tourist, you could purchase a baby alligator to take home as a pet. (Horrified both for tourist and baby gator and also in going further – simultaneously flashing on what must have been many similar instances happening at that same time, all around the globe – not that we've completely, or indeed, seemingly at all, learned our lessons between then and now. You'll note also the additional dose of historical perspective needed when reading the descriptions above of the "vicious alligators" and their "cruel teeth.") And, if it needs mention, and I'm aware this is a very simplified statement on my part, (and this is probably just to lead into the song) the Seminoles had, enterprisingly, turned to tourism in its many forms, for their continued survival……For the Everglades, I always think of John Anderson's hauntingly beautiful, Seminole Wind.)
Sources:   Page, C. Clinton. "Abandon Theatrical Stage to Come South and Raise Fruits and Vegetables." The Miami Herald. November 18, 1921. Friday, p. 4. (Newspapers.com).
"Musa Isle Grove, Early Showplace on River, Finally Yields to Subdivision." The Miami Herald. March 19, 1922. Sunday, p. 27. (Newspapers.com).
Bananas. https://www.google.com/search?gs_ssp=eJzj4tTP1TcwNK7INjNg9OLILS1OTE5NTAUAP5sGUw&q=musaceae&rlz=1C1OKWM_enUS1015US1015&oq=Musaceae&aqs=chrome.1.0i355i512j46i512j0i512l2j46i512j0i512l5.5404j0j15&sourceid=chrome&ie=UTF-8 (accessed December 19, 2022).
"Alligator Farm Will Be Tourist Attraction Soon." The Miami News. October 25, 1921.Tuesday, p. 17 (Newspapers.com).
John Anderson Seminole Wind. https://www.youtube.com/watch?v=W8sh9P3X33w (accessed December 19, 2022).